Discover more from Australia's leading airline.
Discover world-class service, superior comfort and inspired cuisine on Qantas, Australia's leading airline.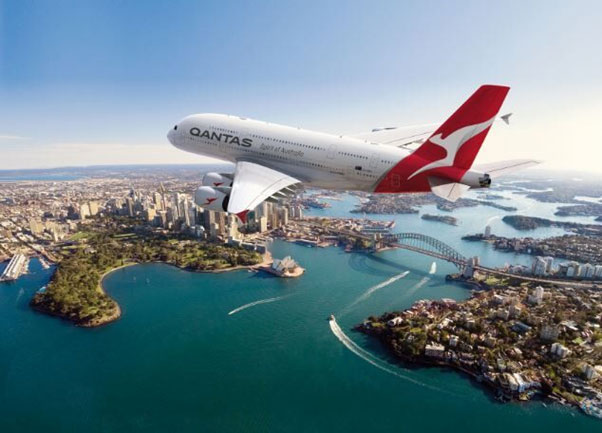 The return of Singapore as a stopover destination as well as flying non-stop from London Heathrow to Perth means there are now more ways to fly to Australia. Take off on double daily flights from London Heathrow to Sydney, Melbourne, Brisbane and Perth, as well as daily flights to Adelaide and Singapore. You can also fly via Dubai with our partner airline, Emirates. Eligible customers can enjoy the new Qantas London Lounge on departure from London Heathrow.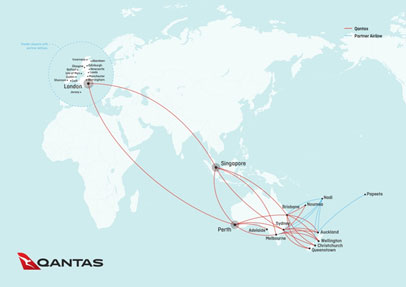 Whether you travel on our award-winning A380 or our new technologically advanced Dreamliner, make sure you add a Qantas Explorer pass to your ticket. That way, you can see more of Australia for less with savings on domestic flights to over 30 destinations.
As part of the oneworld alliance, you also enjoy privileges and rewards beyond the Qantas network. With our warm, friendly service and almost 100 years' experience, you'll enjoy an unparalleled travel experience with Qantas, the Spirit of Australia.
Experience the award-winning Qantas A380. With four spacious cabin classes, delicious cuisine and excellent inflight entertainment options, it's a great way to fly.
As one of the most technologically advanced aircraft ever produced, the Qantas Dreamliner is bringing the world closer with its non-stop London to Australia route.
Discover a new standard of comfort and luxury on our new Dreamliner, designed for maximum passenger comfort and minimal environmental impact.
Experience the best of Australia, before you even arrive.
Book your break down under now with Flight Centre and Qantas, the Spirit of Australia.
Find your local store online at www.flightcentre.co.uk
Why not visit Australia for Mardi Gras 2019: Festival from 15th February - 2nd March. Find out more HERE.
*QF10, London Heathrow to Perth, is the fastest commercial route from the UK to Australia
MORE IN TRAVEL