I'm exhausted. What a week!!! It's not every week that you get to open a beauty salon but that's exactly what I did for my weekly challenge this week. Well almost...
Here's Emma appreciating my facial. Just look at the joy on her face. She's booked in every week now.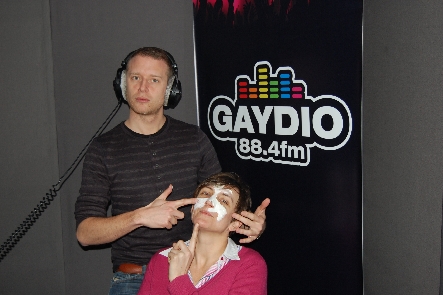 On Friday I officially opened (and closed) my waxing clinic with the help of Jolene from Strictly Waxing. I successfully managed to give Producer Jamie an experience he'd never forget. OOOOH so smooth!! Apparently he'll be on stage as a Debbie McGee tribute act this weekend with his ultra smooth legs. He got his own back by waxing my inner arms (yes they were a tad hairy).
If you fancy a VAJAZZLE (I am seriously tempted) or a Northerner (that's smooth buttocks and crack) then have a look at
http://www.strictlywaxing.co.uk
. A huge thanks to Jolene for her patience and wax.
Have a super weekend. I'm back on Monday with some seriously exciting news about a celebrity co-host....
Cx