If someone had told me this time last week that in a weeks time I'd have mounted Leona Lewis' beast, I don't think I'd have believed them - but that's just what happened in my weekly challenge*
*well - I got to ride a horse that Leona once rode.
I was sent to the Carrington Riding Centre on a sunny Manchester afternoon - where my challenge was to complete a 'course on a horse'. I was kitted out in a rather fetching hat and wellies and then shown to the outdoor arena to meet Ali - my teacher for the afternoon. She disappeared and came back with quite a beast. A lovely horse called Shannon. After using a stool to get onto the saddle (a bit like in the newsagents when you can't reach the top shelf) I sat astride her and was ready for the basics. I mastered starting, stopping (always helpful) and second gear (which involved uncontrollable laughter on my part). Ali set up the course and then I was off - steering Shannon through a tight squeeze, over a jump (a pole on the ground) and round a chicane. I did it. I am proud. I'm now looking at Zara Phillips with a new found respect. And getting increasingly jealous of jockeys outfits.
A big thanks to everyone at the centre who helped me out and made me feel very welcome. It's a lovely place and well worth a visit -
http://www.carrington-rc.com
Here I am (she was still warm from Leona)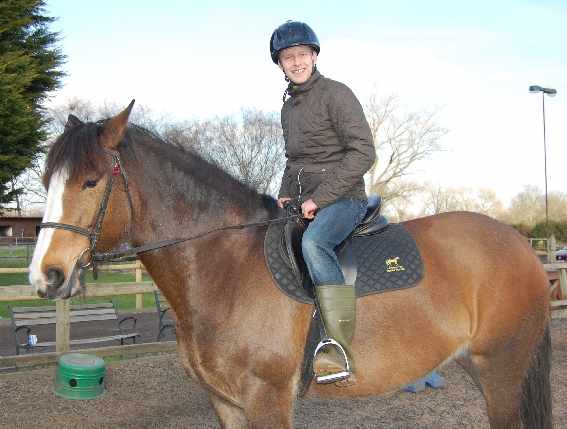 Have a super weekend. I'm off for a step-touch at Cut Copy's gig tomorrow night. Oh yeah - and I've got an 18 mile run to fit in. More on the marathon very soon. You'll even get to pick my running day outfit. Be kind.
Rave safe.
Cx