Live Below The Line....
What does Hugh Jackman have in common with our very own Chris Holliday at Breakfast?!
Hollywood good looks? Gorgeous wife? Continuously hounded by paps? Surprisingly not. This week Chris and Hugh are facing the same challenge!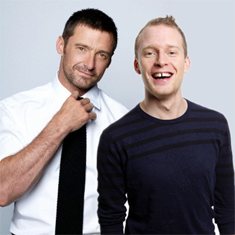 Chris has had some pretty tough weekly challenges - an army assault course, skydiving - even CLOG DANCING (ok, perhaps not the last one) but this weeks could be his toughest yet... He'll have to survive on just £1 a day. That's just £1 for all his food and drink. £5 across the week for all his nutritional needs. And he wants YOU to join him.
He's talking part in Live Below the Line. And here's why...
- There's not much you can do with a £1 but surviving on this small amount each day is the reality for the 1.4 billion people currently living below the Extreme Poverty Line.
- Live Below the Line is a challenge for people to eat and drink on the same amount as those living in extreme poverty. Take on this challenge and help raise money for charities working to end poverty.
Chris is supporting UNICEF, so why not join him? And Hugh. We know - It's difficult to tell them apart. The event runs next week. For more info go to:
www.livebelowtheline.org.uk/uk-unicef