Virgin Atlantic and Gaydio Partner to Empower Pride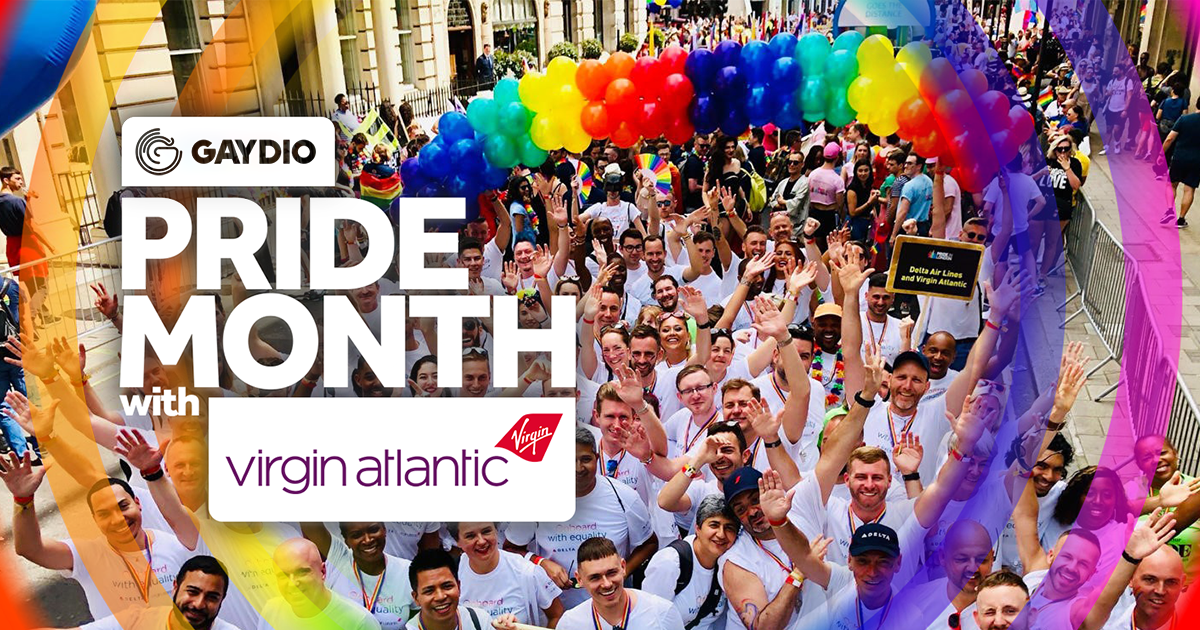 UK's leading LGBTQ+ station is Where Pride Lives
Partnership runs throughout Pride month to tell the stories of LGBTQ+ people across the UK and celebrate Pride
Gaydio is the station is 'Where Pride Lives'
Partnership helps Gaydio extend reach across the UK and support more Prides – with content coming directly from various events throughout the summer

Today, Virgin Atlantic and the UK's leading LGBTQ+ radio station, Gaydio have announced a partnership that runs throughout Pride month 2022.
The partnership will seek to support Virgin Atlantic to continue delivering an inclusive environment where all their people can proudly be themselves - no matter their gender, background, beliefs, skin colour, physical ability or who they choose to love.
One element of the campaign will see Virgin Atlantic colleagues share their stories and what Pride really means to them. It will also cover why protesting is still vital to pride and the importance of showcasing positive LGBTQ+ role models.
Virgin Atlantic has a long history of supporting the LGBTQ+ community both internally and externally and seeks to work with LGBTQ+ partners, like Gaydio, to help champion the LGBTQ+ community and support individuality.
Juha Jarvinen, Chief Commercial Officer from Virgin Atlantic said: "Our ethos is that everybody should be able to take on the world, no matter who they are. We have long supported LGBTQ+ rights both within our business and the destinations we fly to. It's something our founder Sir Richard Branson has championed since our inception 38 years ago. That's why we're thrilled to be able to partner with Gaydio to celebrate the LGBTQ+ community this Pride month and continue our important work in championing individuality for our people, customers and the communities we operate in worldwide."
Gaydio Network Manager, Kriss Herbert said of the partnership: "Gaydio is really the home of Pride and partnerships like us allow us keep telling the stories of those who matter to our audiences. They also allow us to extend our reach across Prides across the UK and so you can expect to see us popping up at various Prides across the country including Birmingham, Brighton London and Manchester where we will be broadcasting from!"
As part of the partnership launch, Virgin Atlantic employees have started sharing what Pride means to them – video below

About Gaydio
Gaydio is the longest-running radio station broadcasting to the LGBTQ+ community. It's available on DAB across Greater London, FM and DAB+ across Manchester and Brighton, and DAB+ in Birmingham and Portsmouth. Online at gaydio.co.uk and on smart speakers. Gaydio Breakfast with Paris and Dave is broadcast on Gaydio weekdays from 7am till 10am.
About Virgin Atlantic
Virgin Atlantic was founded by entrepreneur Sir Richard Branson in 1984, with innovation and amazing customer service at its core. In 2021, Virgin Atlantic was voted Britain's only Global Five Star Airline by APEX for the fifth year running in the Official Airline Ratings. Headquartered in London, it employs 6,500 people worldwide, flying customers to 27 destinations across four continents. Alongside shareholder and Joint Venture partner Delta Air Lines, Virgin Atlantic operates a leading transatlantic network, with onward connections to over 200 cities around the world. On 3 February 2020, Air France-KLM, Delta Air Lines and Virgin Atlantic launched an expanded Joint Venture, offering a comprehensive route network, convenient flight schedules, competitive fares and reciprocal frequent flyer benefits, including the ability to earn and redeem miles across all carriers.      
 Sustainability remains central to Virgin Atlantic, having taken an industry leadership position through its long-standing support for SAF commercialisation and fleet transformation programme. Since September 2019, the airline has welcomed eight new Airbus A350-1000 with a further A350-100 and three A339s entering the fleet in 2021. By the end of 2022 the average fleet age will be just over six years, driving a fuel efficiency (CO2 /RTK) improvement of 30% compared to 2007. For more information visit www.virginatlantic.com or via Facebook, Twitter and Instagram @virginatlantic.