Great times in Greater Palm Springs
We're in the desert - 100 miles east of LA in Greater Palm Springs on our SoCal Roadtrip. Emma Goswell checks out this retro-chic destination that has become known across the globe as a real LGBT hot spot. And we mean HOT!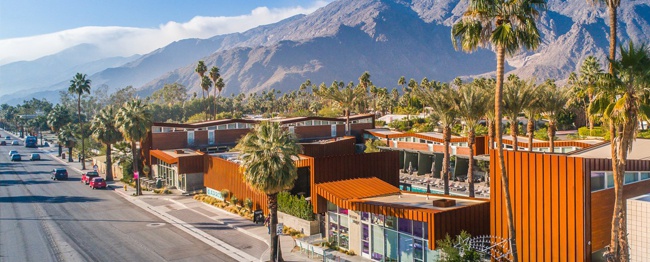 A genuine oasis in the desert – it's no accident that this became the playground of the rich and famous during the golden age of Hollywood. Stars always had to be within a two hour drive of the studios in LA in case a reshoot was ordered so Elvis, Bob Hope, Bing Crosby and Marilyn Monroe all had houses here. Barry Manilow and Leonardo De Caprio still do! If you have a good guide you can even drive by and see their pads. Be prepared for some serious house envy. I'll never forget the moment I actually touched Marilyn's post-box. Swoon!
The nine cities that make up Greater Palm Springs still draw celebrities and tourists alike for their stylish hotels, great restaurants, famed nightlife, spas – oh and I haven't even mentioned the weather yet. We visited in mid-September and we didn't see a cloud the entire time we were there and temperatures peaked at 41 degrees Celsius! Even in November and December (which is probably an ideal time to visit) temps average at 25! Be prepared to take in a LOT of fluids and get through a LOT of sunscreen!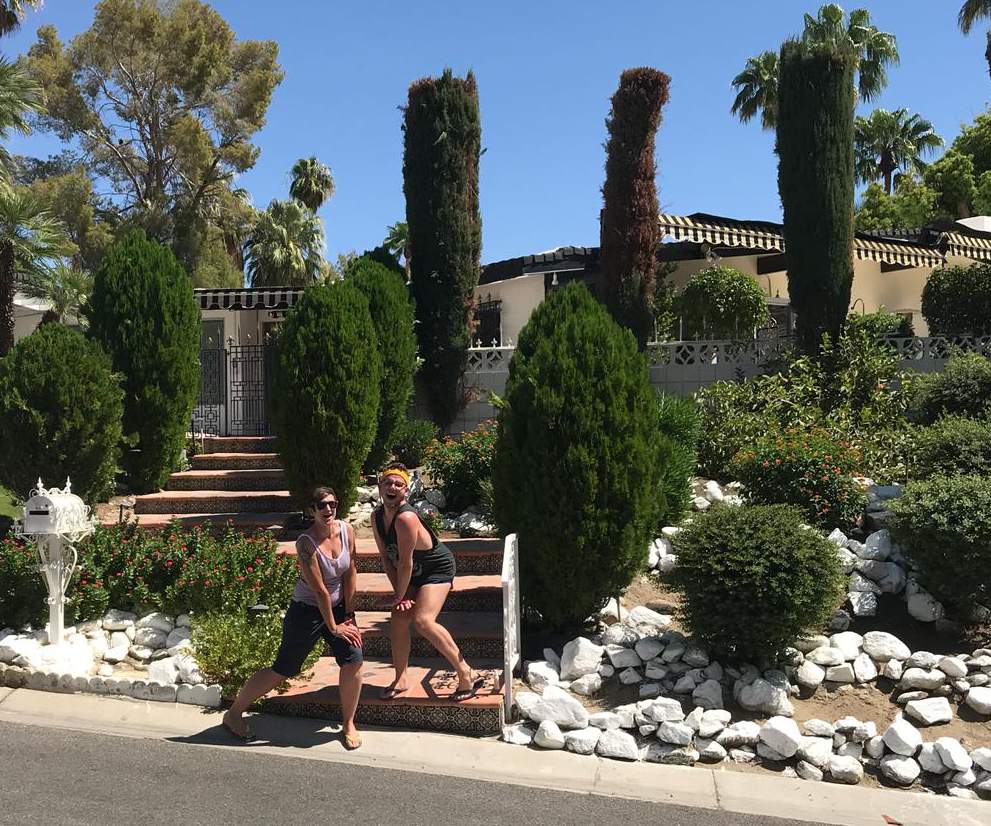 Home for this stay was the incredibly hip Saguaro hotel loacted in the city of Palm Springs itself. Apparently they painted all of the balconies and the hotel exterior in shades that are found in the desert – but it's essentially like staying in one big gay rainbow. I like to think it's a nod to the city's LGBT community, laid back lifestyle and forward thinking politics. Palm Springs has the distinction of having the ONLY entirely LGBT+ council in the whole of the USA!
We saw some very impressive pools during our SoCal Roadtrip – but I'm voting the pool at The Saguaro my favourite. It really is the focal point of the hotel – surrounded by cool places to chill (they literally pump cold air and mist at you!) and offering stunning views of the impressive San Jacinto mountains behind. There are more pools per capita in Greater Palm Springs than anywhere in the US (over 50,000!) – and one of the main draws of a holiday here is simply 'doing nothing by the pool'.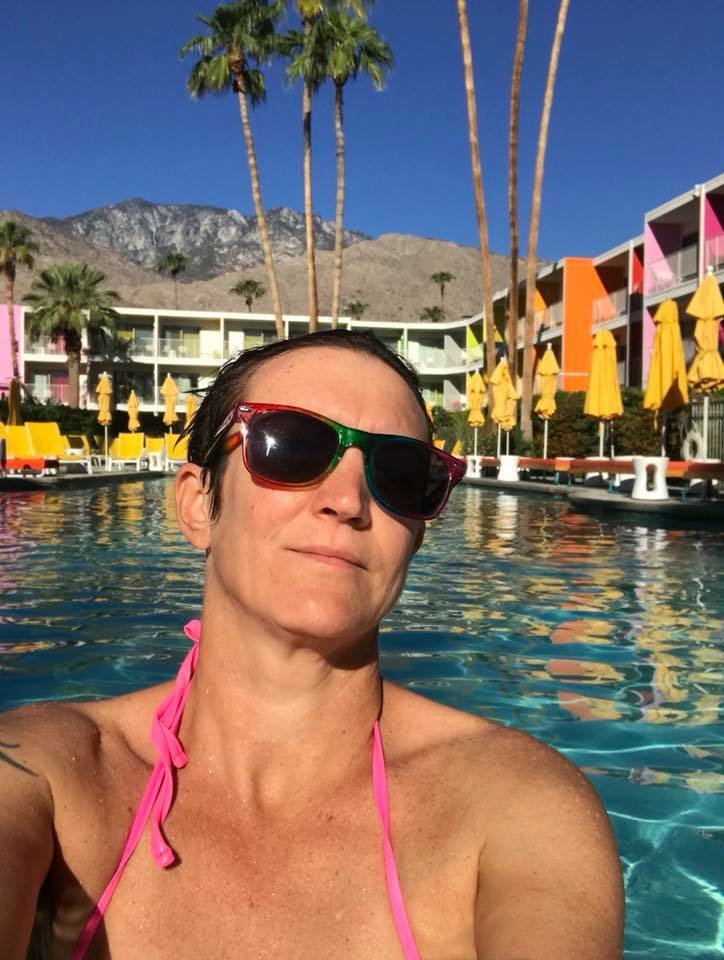 If you get there in June or August you may be lucky to coincide your trip with Splash House – an ingenious idea where the worlds top DJ's descend on Greater Palm Springs for massive pool-side parties. There's even a free bus that transports you from pool venue to pool venue. Duke Dumont played in 2018 and the stunning Saguaro is one of the main host venues.
Providing you've recharged your electrolytes though and have the energy to venture further than your pool – you'll find plenty of things to get up to. Here were some of my favourites….

Red Jeep Tours
Cities are all very well – but you're in a desert – so get out and explore it! The 9 cities are located in the Coachella valley (yes they hold the famed music festival here) and right next to the San Andreas fault. We chose a 3 hour jeep tour of the fault zone – which even if you're not a geology fan you'll find fascinating. What Bob, our amazing guide, didn't know about tectonic plates and rock erosion was not worth knowing – but he presented it in a fun understandable way – even using an Oreo cookie to demonstrate what was going on beneath our feet, geologically. We got to get out the jeep too – to wander through an incredible labyrinth of small canyons and explore a landscape that seemed almost unworldly! Bob also took time to point out any wildlife, talk to us about the natural vegetation and also explain how the Cahuilla Indians used the deserts plants for food and medicine. A definite must if you go to Greater Palm Springs.
Vino and Vinyassa
I love a bit of yoga – and I've been known to enjoy the odd glass of wine (OK massive understatement) – but I've never enjoyed them both together – until now! We drove just a few miles out of Palm Springs to neighbouring city Indian Wells, to visit the stunning five star luxury of the Hyatt Regency. We were originally booked to take part in Scotch and Stretch – but as Dean and I don't drink Whiskey (our bodies are temples – ahem!) we opted for the wine version instead. That both classes are on offer shows what a weird and wonderful place Greater Palm Springs really is! Our instructor Honri took us through some breathing exercises and some basic yoga moves before getting us to sit on our yoga mats and then opened the first bottle of white. This really wasn't about getting sloshed – it was an education into wine tasting with some yoga moves in between. Mind you after tasting a couple of nice Californian whites, two reds AND a prosecco – I was more ready for lying down than working on perfecting my downward dog. Holidays are all about trying something new – and while I may not be attempting this again I'm sure glad I gave it a try!

Daddy's Barber Shop
If you get your hair cut BEFORE a holiday – think again – why not visit a cool and very gay barbers on day one of your trip? Daddy's is run by Arlen Lasater – a San Francisco barber who's famed for serving the San Francisco leather scene. He's recently set up shop in Palm Springs and offers reasonably priced trims, shaves and cuts in a new salon decorated with stylish pics of semi naked leather wearing gay men. What's not to like?! I confess they don't really specialise in women's hair – but barber John (also from San Fran) did an admirable job – and I LOVE my new look! Plus – the boys are so friendly – an early visit means you would have new friends and some quality LGBT travel advice before you start your holiday!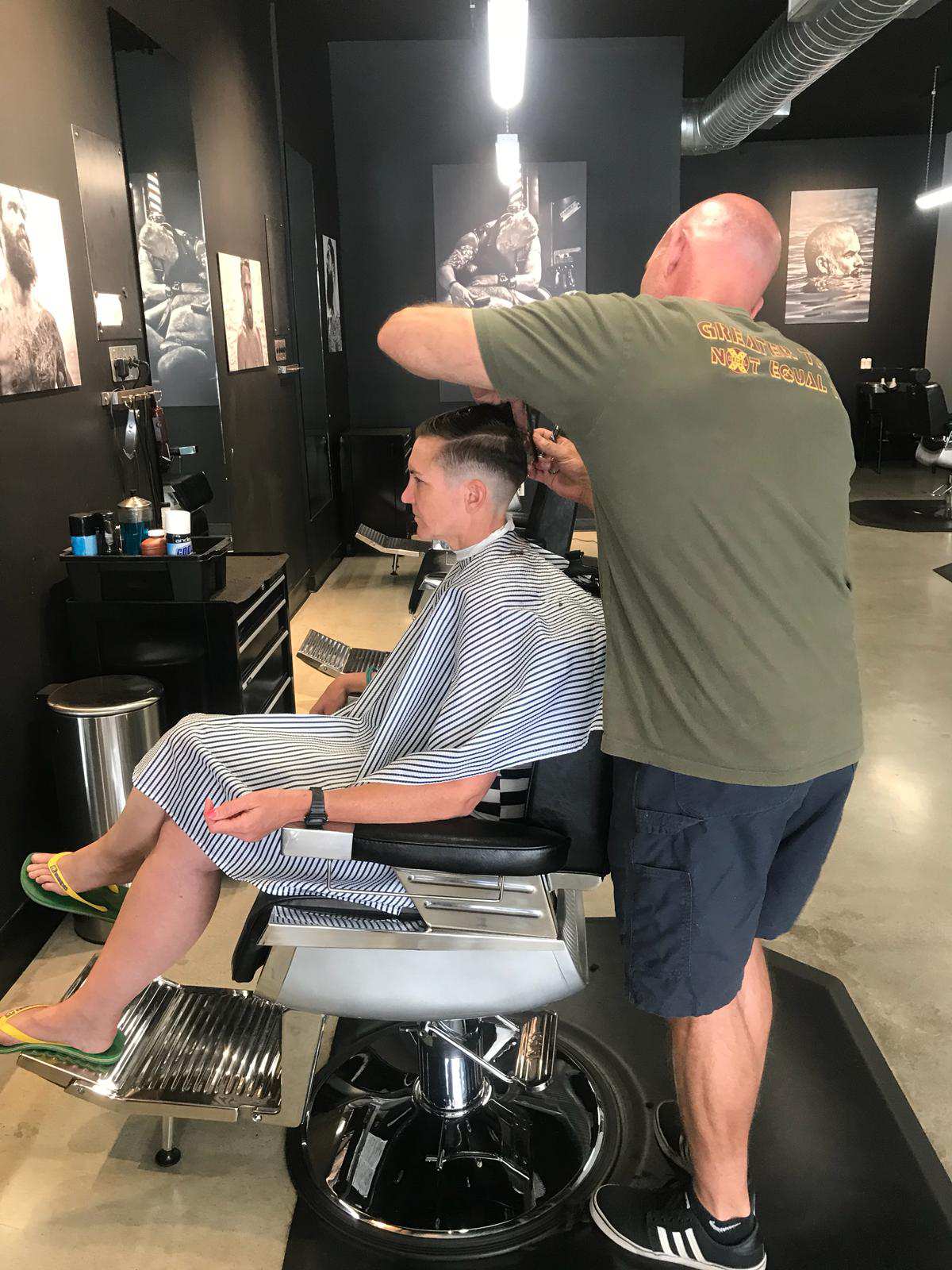 Blackbook Bar
Just opposite Bear Wear and next to Gaymart (yes it's in the gayborhood!) is this upmarket gay bar where you can indulge in a nice cocktail or 3 – and some quality all-American / texmex cuisine. We went for a VERY later dinner at about 11.30pm one night and were thrilled to find the kitchen still open. The spicy wings and chicken tacos are highly recommended – but on top of my 'must try' list is the loaded fries. A full meal in its self – it really was something else!
Toucans Tiki bar
I think it's always important to try new things on a holiday – and on this trip I discovered a 'new' drink in Toucans – tequila and sprite. Honestly – it's what all the cool Palm Springians are drinking and it's the future! Not that I needed too many to enjoy a fun night at this gay club famed for its theme nights and drag acts. We were lucky enough to be there for a very special night filled with queens from Ru Paul's Drag Race. The busy 'up for it' crowd lapped up the sets from Mayhem Miller, Ongina and Monique– in a show hosted by drag favorite Morgan McMicheals. To reflect the city's older LGBT population they even did 2 shows – one at midnight – but one earlier for those who wanted to get to bed on time!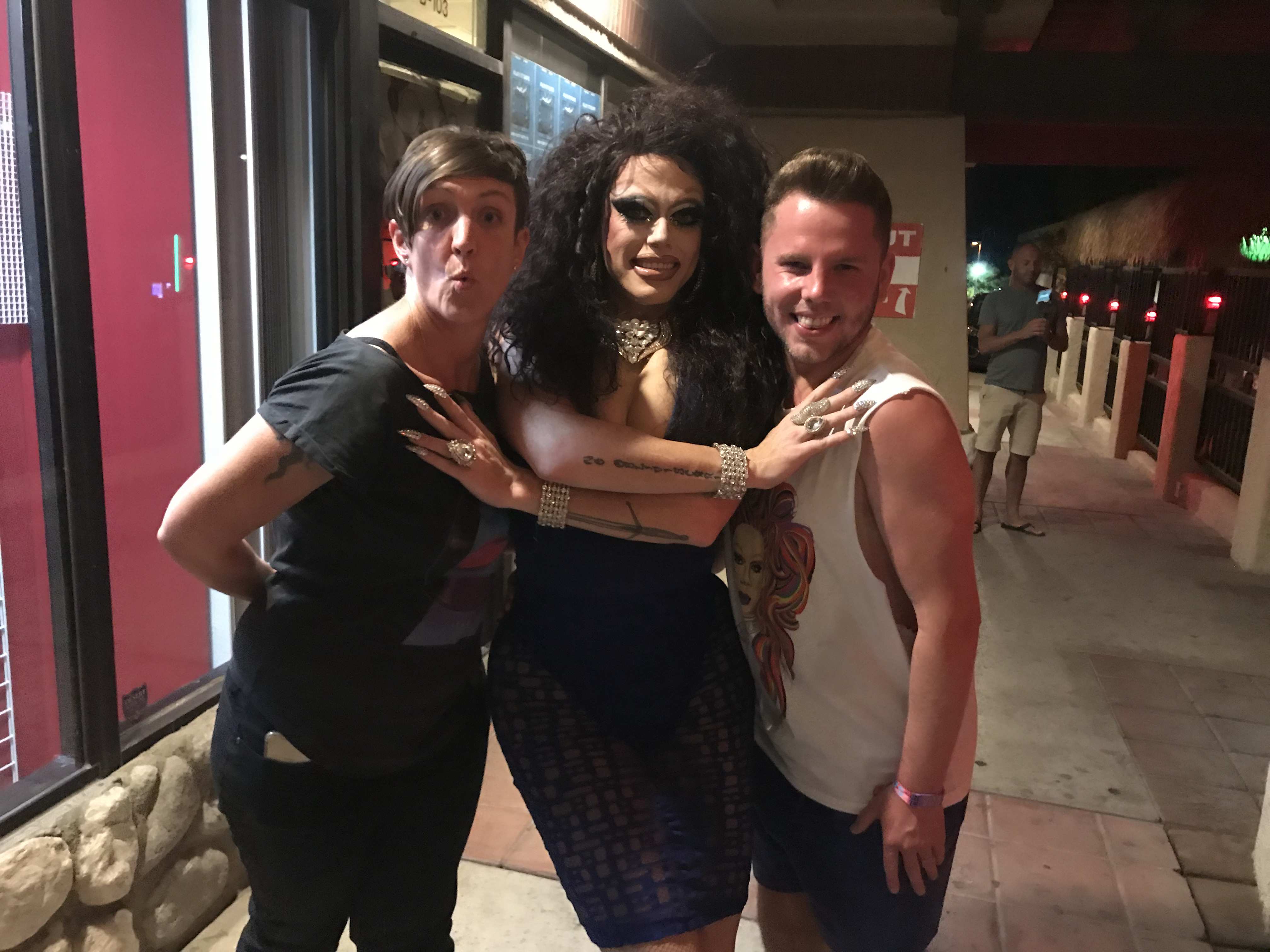 El Mirasol
It's one of my favorite types of food – and if you're not actually in Mexico, then Southern California is, in my mind, where you'll find the most authentic Mexican grub this side of Guadalajara. A fun, relaxed restaurant El Mirasol boasts a cute courtyard where you can sip giant sized Margaritas (complete with salty rim) while being cooled by outdoor aircon and misters. I opted for the pulled pork enchiladas – which as well as being delicious, fed me the next day for lunch too as the portion was so big!
Chill Bar
Don't be fooled by the sedate lounge with LGBTers sipping cocktails in the front part of the bar. The real action happens in the adjoining dancefloor room where UK DJ (now based in LA) Euro Steve was there banging out the dancefloor fillers. Not that we spent much time looking at Steve. The Go-Go dancers on the many podiums were something to behold. Make sure you get a fistful of 'singles' (or fives) to thrust into the pants of your favorite. I know I did and I have the embarrassing photos to prove it. Rumors circulating that Steve will be changing his name in 2019 to Brexit Steve are completely unfounded and made up by me.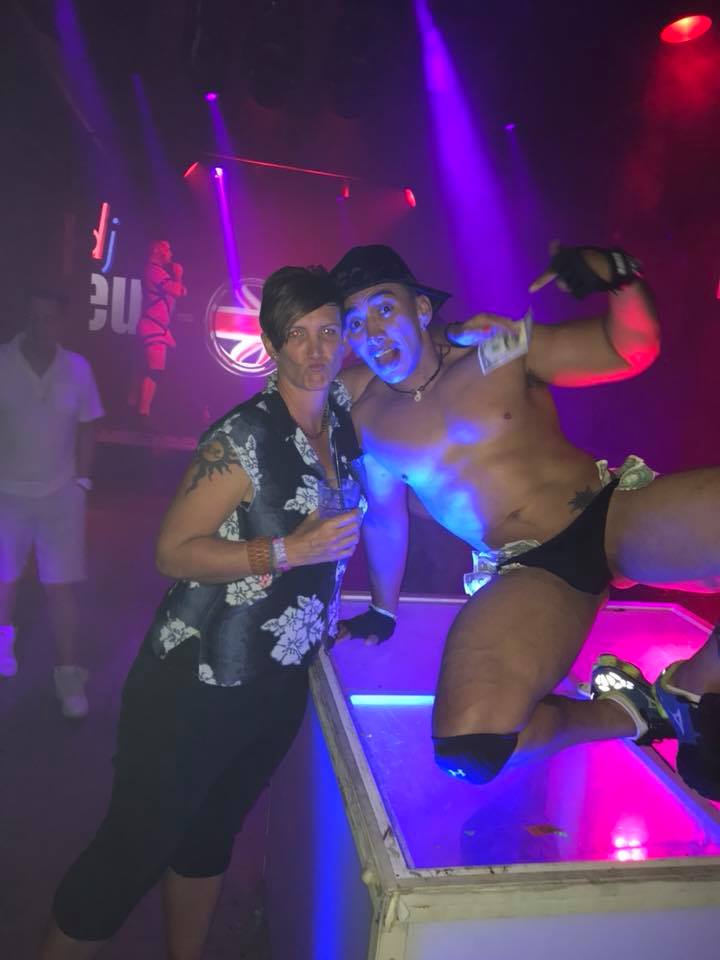 I'm not sure how Greater Palm Springs became such an LGBT Mecca - its proximity to LA coupled with the feeling of a hidden oasis? Perhaps the same reasons that drew Hollywood stars to the desert all those years ago. We only scratched the surface of a Greater Palm Springs holiday, which is what will be drawing me back. You can find out more for yourself at visitgreaterpalmsprings.com.
Looking to take your own road trip adventure? Booking through Rentalcars.com is a great way to guarantee the best possible rates. Rentalcars.com compares over six million prices every day on all car groups, including luxury cars, people carriers, minivans and automatics. It's easy to book at Rentalcars.com.
Aer Lingus, Ireland's only 4-star airline flies to LA via Dublin where passengers can save time and pre-clear U.S. customs – visit aerlingus.com to book your flight.
Hear Emma & Dean's full adventure in Greater Palm Springs on their podcast, here.