Gaydio In Greece
By Chantal Cooke
The sun slips behind the mountains, casting its last rays on to the beach. They reflect off the wet boardwalk creating a path of liquid gold crossing the sand to disappear into the ocean. It's the perfect setting for sundowner cocktails; the beach, the bar, and the D.J.
I am at the W Costa Navarino in Messinia, Greece. It's the latest property from the Costa Navarino group, all based around the picturesque Navarino Bay less than an hour from Kalamata Airport. With beautiful beaches, ancient ruins, bustling villages, olive groves, and, during the migration season, lots of flamingos, this is an area of Greece that's well worth exploring.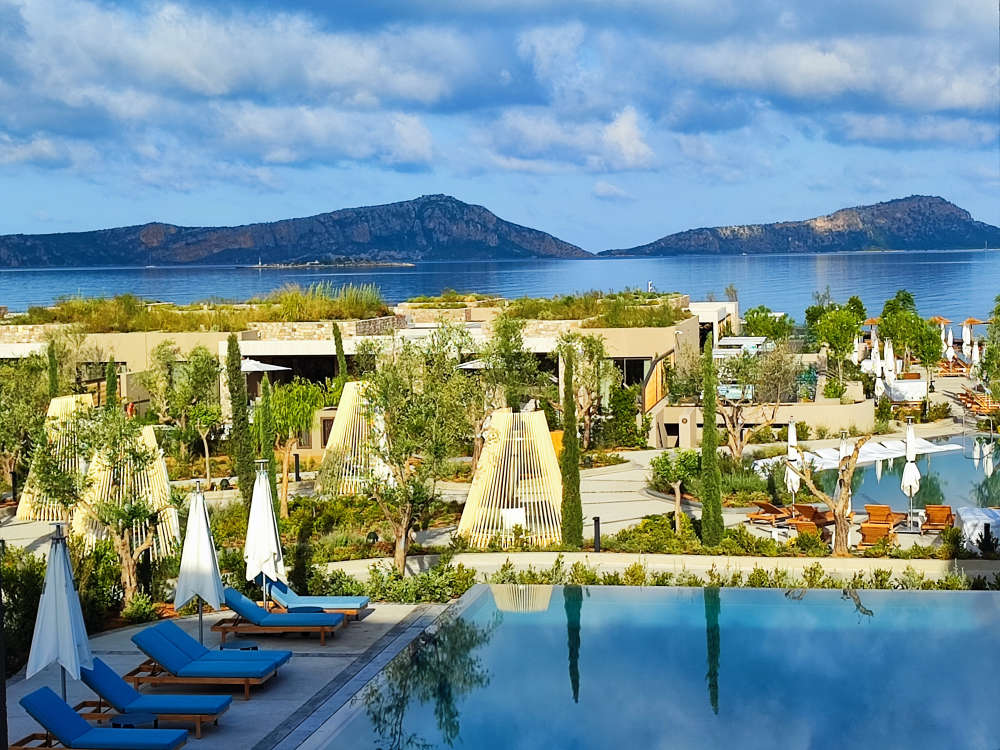 That said, if you prefer simply to chill at the pool by day, and eat, drink and dance by night – then that's covered too.
The W Costa Navarino opened in August 2022 and offers guests the visually stunning setting you'd expect from a high-end hotel on the Greek coast. There is a choice of accommodation including swim-out rooms (yes, you can step straight off your private terrace into the pool); panorama rooms with a view across the bay (what you lose by not having direct access to the pool, you gain by having a fabulous view over the water to the mountains beyond); and private villas, which are great for families (no children under 12) and groups and offer a high level of privacy. Whatever you choose, the décor is neutral tones and natural materials both inside and out to generate a connection between the two areas.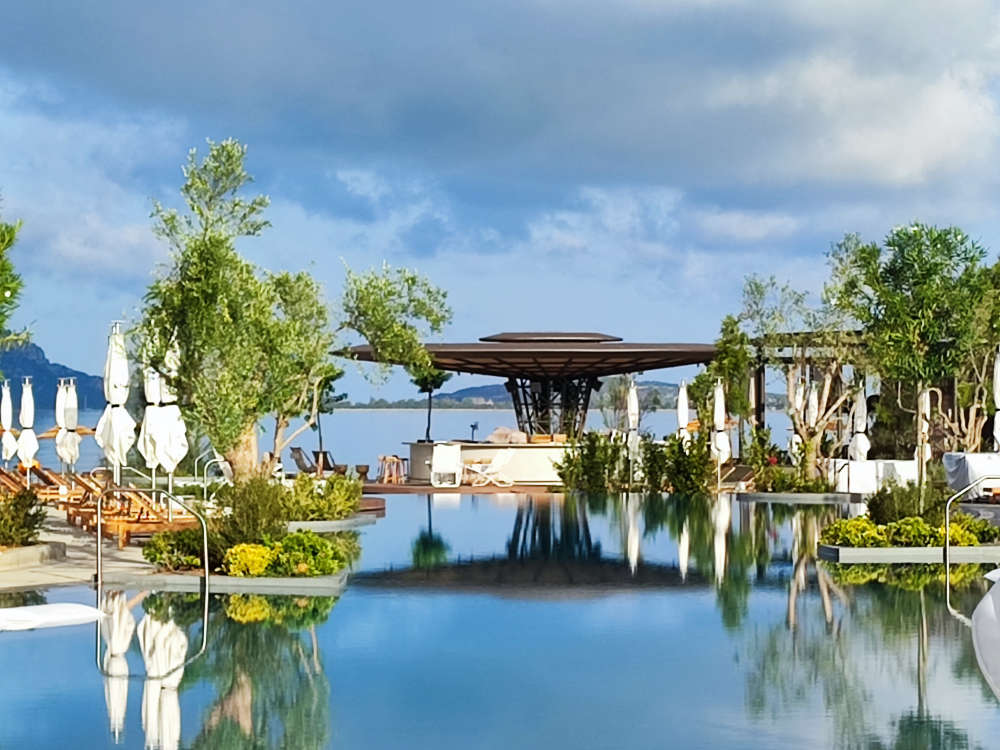 If you prefer to spend time away from your room (although I found it tempting never to leave my swim-out room) there are plenty of other pools around the resort from semi-private, to infinity, to exercise, to sea view. Relax on one of the giant, round beds with cushions and privacy curtains; lounge on the large four-poster sunbeds; get closer to the pool on a classic sun lounger, or right into it on a water lounger; plus there are the bars, lounges (with shade and a view), eating areas, and the spa and gym. If you prefer the beach, grab a drink and walk the twenty seconds to the sand and surf and relax under a large, thatched umbrella.
With so many options you'll never feel crowded or at a loss for something to do – even if that 'something' is nothing.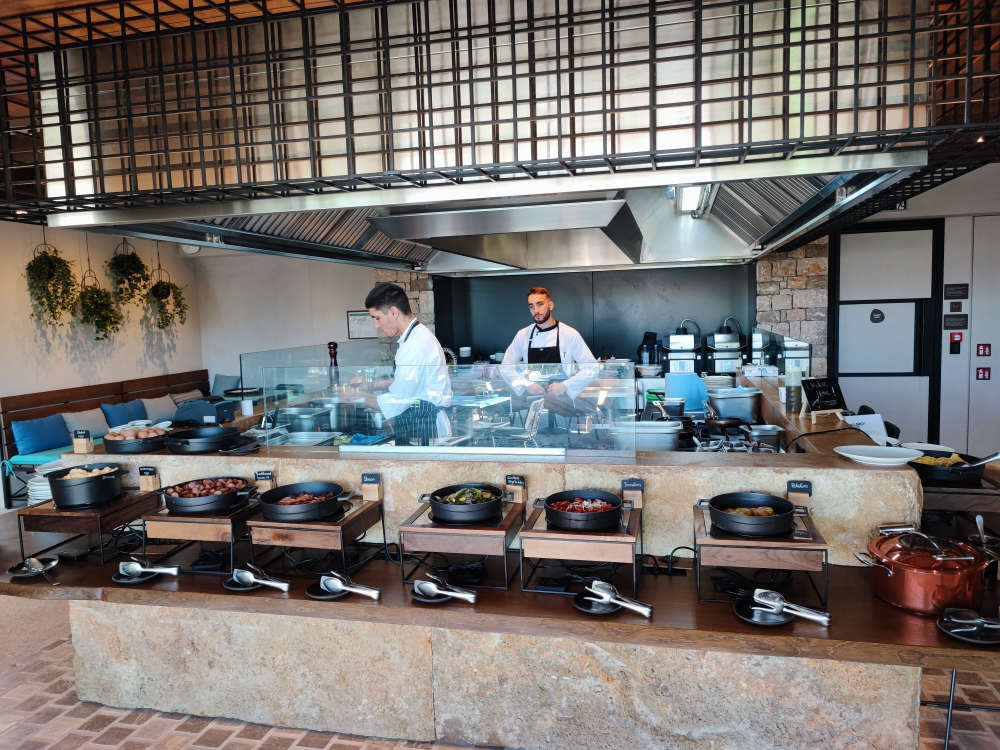 As the afternoon moves on and the clock strikes 'gin time' order one of the local gins from the bar and have it brought to you; no need to interrupt your relaxation. Then, after dinner it's time to mingle, dance, laugh, chat and tap your feet to the rhythms of the in-house DJ.
If you need to burn off a few calories, there is the fully equipped gym, a free yoga session most mornings, nearby golf courses, tennis courts and private coaching, and lots of areas to hike and mountain bike. As you have access to all the other Costa Navarino properties locally, you can use their sports facilities and ring the changes with a meal in a different restaurant. For one with a ceiling that is almost more captivating than the view, try BarBouni at Navarino Dunes.
I'd also suggest a short bike ride to the outrageously Instagrammable Voidokilia Beach (also known as the Omega Beach), so named due to its 'ox-bow' shape. This almost circular bay has pale sands and clear, calm waters, making it ideal for a swim and a spot of sunbathing. Your route to the beach will take you through olives groves, past a tiny Greek orthodox Church painted blue and white, through sleepy villages, and during the migration season (early Spring and mid-Autumn) you'll cycle along the edge of a lagoon with hundreds of flamingos.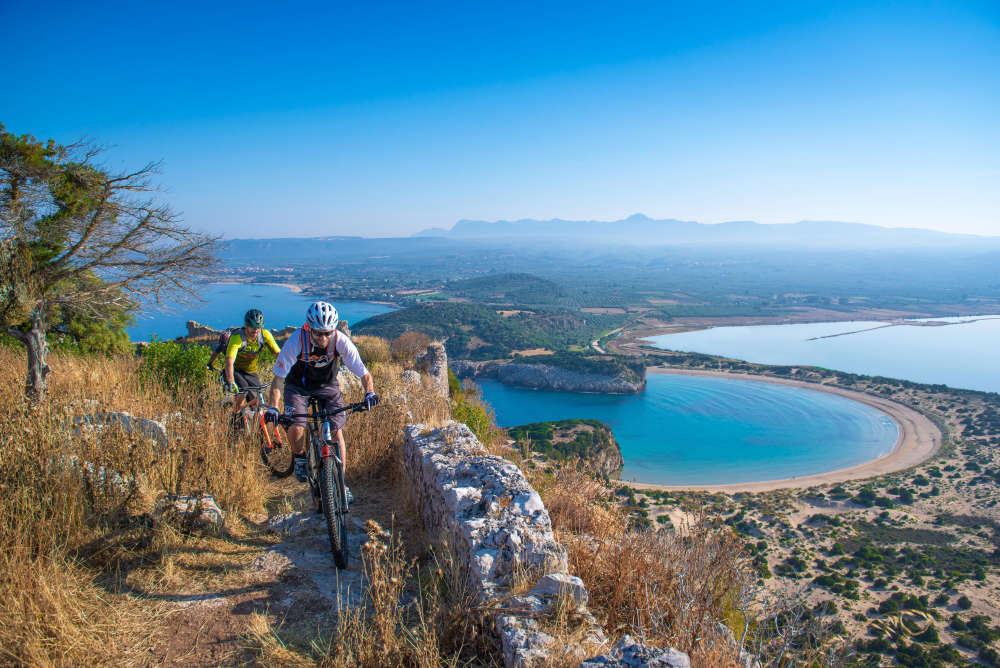 Other activity options include a cooking lesson with two local ladies who will show you how to make a selection of Greek dishes including Greek salad, a form of Greek 'noodle' and a delicious courgette 'pie', all of which you get to enjoy eating afterwards. For the more active there is water skiing, hiking, rock climbing, SUP, kayaking, yachting, sailing, scuba diving, and snorkelling. And after all that exercise, I recommend heading to the spa for a signature massage, facial, body scrub or mani-pedi.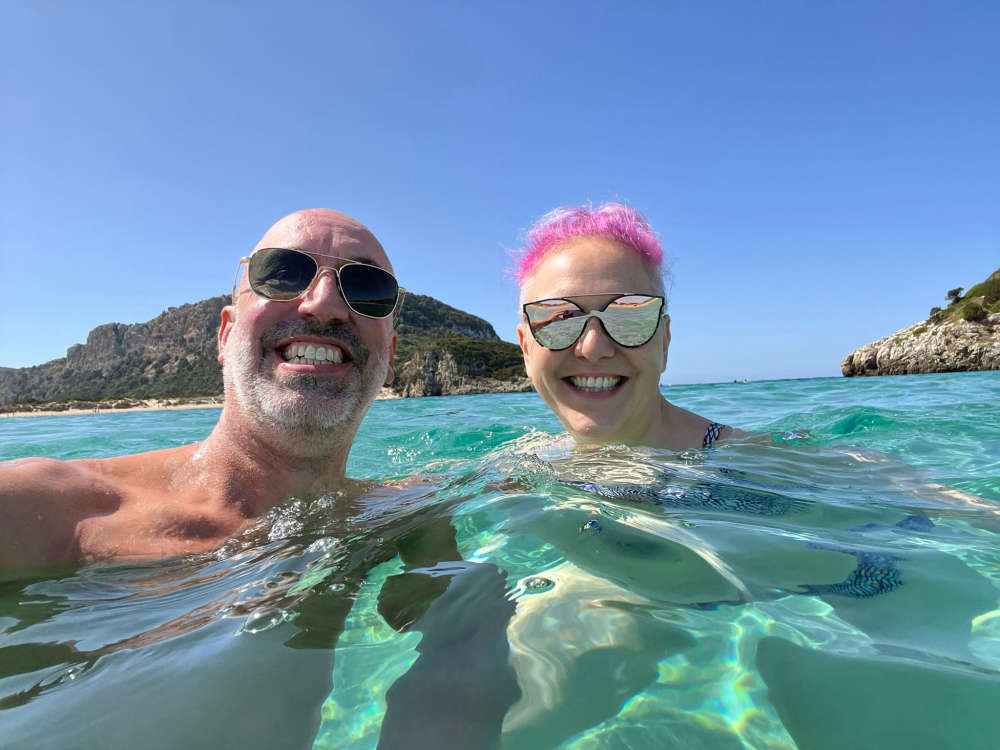 The W Costa Navarino has a superb breakfast concept. Breakfast is always one of my favourite meals of the day, and I was not disappointed. The Platia is the hotel's playful take on a deli food market with individual 'outlets' positioned around the breakfast area. You can pop in and out of each depending on what you want. There is café with barista-made fresh coffee, have it hot, iced or cold brew, speciality teas, and mini cookies. There is also a full range of plant milks from soya to oat to rice to almond. I started each day with an oat milk iced latte (or two!) and a glass of freshly squeezed orange juice. Next door is the deli, where you can find fresh fruits, yogurts, cold cuts and cheese. Move long to the bakery where there is a wide range of freshly baked breads, croissants and cakes, and finally there is the hot kitchen, for cooked foods including pancakes, avocado toast (freshly smashed and toasted while you wait), and eggs (anyway you like). If my stomach could have managed it, I'd have spent a couple of hours here grazing on the delights on offer.
Costa Navarino is a destination in itself. There are a variety of different hotels to choose from including the Navarino Dunes, Bay, Hills, Blue and Waterfront (where I stayed) and a wide range of facilities whether you want relaxation, sports, or soft adventure. For meat-eaters there is a good choice of food at the resort restaurants, but for vegetarians, flexitarians and vegans it is, shall we say, a work in progress. The setting is beautiful and the rooms luxurious, so whether you want to relax, party, get sporty, or simply eat, drink and chill – you'll have everything you need.
The hotels are also well placed for getting out and about. Explore the historic city of Kalamata, home of the famous olives. The fortifications date back to the 13th century and a walk from the old, fortified area of town to the port is recommended. Slightly closer is the town of Pylos where you can visit the Castle of Niokastro (meaning "New Fortress") built in 1573 and Palaiokastro ("Old Fortress") built in 1278. There are also two museums; the Archaeological Museum and the Museum of Underwater Antiquities. And if you love castles, visit Methoni Castle one of the most impressive, fortified complexes of the Peloponnese, built in 1209, and a jewel of Venetian-era architecture. Cross the bridge that leads into the castle and walk the walled grounds to the octagonal fortified islet known as Bourtzi.
So, whatever you want from your next holiday, Costa Navarino can probably provide it, and I expect like me, you'll want to go back again and again.