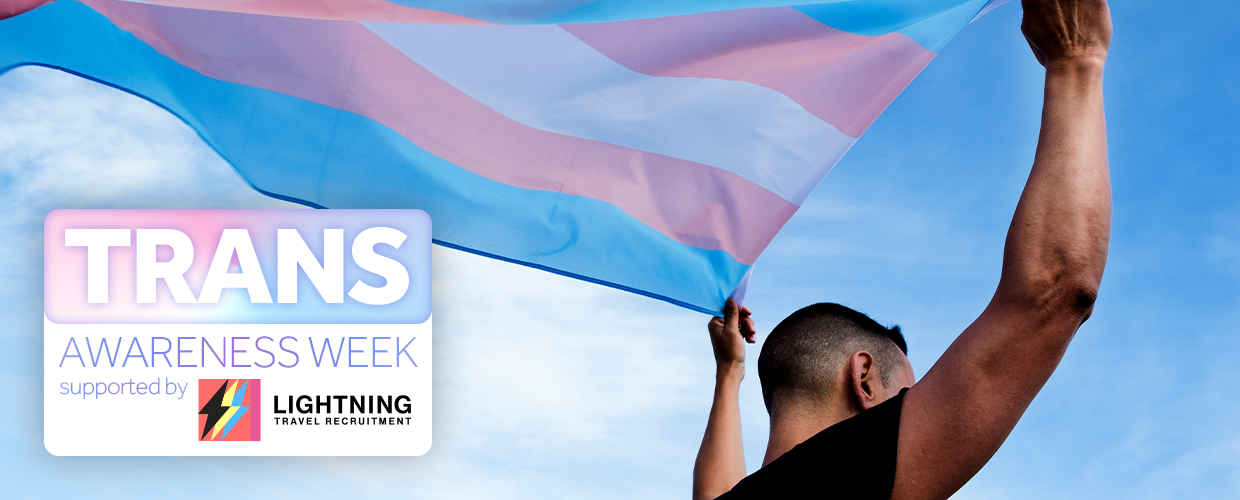 Gaydio and Lightning Travel Recruitment have come together for Trans Awareness Week - an opportunity for us to come together to increase transgender visibility and shine a spotlight on issues that impact members of the community.
Between Sunday 13th and Saturday 19th November, we're amplifying trans voices on air - you'll be able to hear special guests discuss their journeys and we'll be shining a light on two charities that provide support to the community - The Clare Project and Not A Phase.
Lightning Travel Recruitment
The specialists in luxury travel and lifestyle jobs, Lightning Travel Recruitment consciously connect humans with businesses to help both thrive. With a relationship-driven approach to head-hunting and business consultancy, they help individuals and businesses develop before, during and after hiring. All the while working towards greater diversity and inclusion in the industry.
Watch the video from, Chris, the founder of Lightning Travel Recruitment to see why supporting Trans Awareness Week is so important:
The Clare Project
Beginning in 2000, when a group of trans women started meeting in the back room of a hairdressing salon to discuss issues affecting their local community, The Clare Project supports trans, non-binary and intersex adults in Sussex.
They are now a registered charity run by and for trans, non-binary, gender-variant and gender-questioning people in Brighton, Hove and East Sussex. They run psychosocial support groups, information sessions, workshops and excursions, as well as providing information and training for individuals and organisations on community needs, and connecting people to affirmative peer support, psychotherapy and healthcare.
The Clare Project also offer some support and advocacy for people who are intersex / have variations in their biological sex characteristics.
Not A Phase
Supporting the lives of trans+ adults across the UK is the core message of Not a Phase, a charity that is working towards a brighter future for the trans+ community. Through awareness campaigning, developing company D&I strategies and supporting trans+ lead projects with financial and material investment, Not A Phase aims to bridge the gaps that the trans+ and gender nonconforming community too often fall between.
The funds raised for Not a Phase not only go into these projects but also support the peer support groups and fitness/wellbeing programmes that take place across the country, aiming to give a regular safe space for trans+ adults to meet, learn and grow.