24 Hours in Southport!
On first impressions, you'd be forgiven for thinking Southport isn't the gayest place in the world to stay. There's no LGBT bar and in 24 hours there, I didn't see a single out gay couple.
But hey. This is the birthplace of Marc Almond and Jean Alexander - the brilliant Hilda Ogden in Coronation Street. And it's also where you can meet 100 naked men on a beach.
John Ryan spent a day and a night in Southport for Gaydio.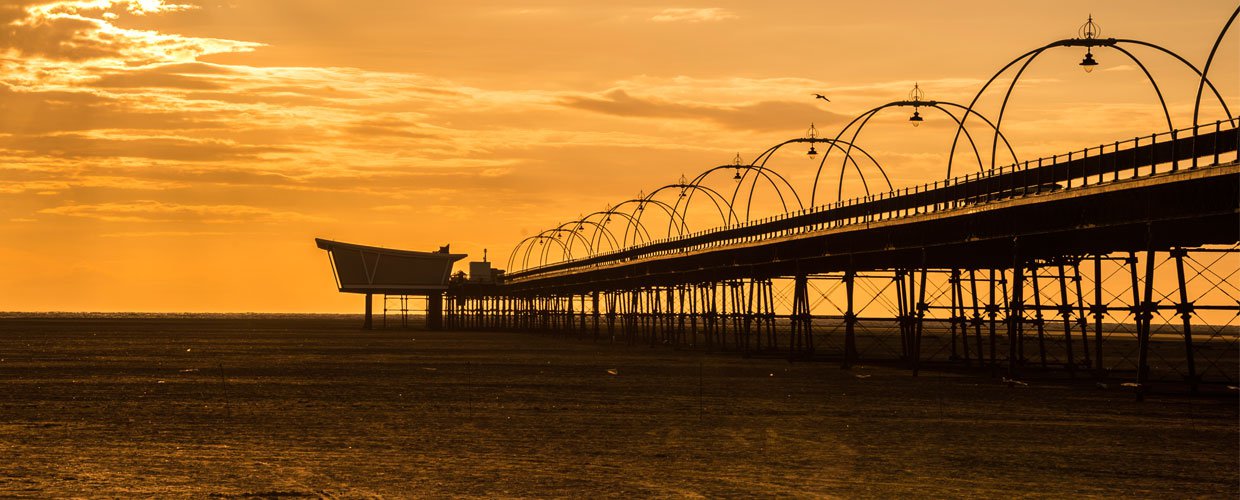 I always feel like Anna Massey in Hotel Du Lac when I go away on my own. Thoughtful, people-spotting, recharging. This midweek trip combined relaxation and a bit of luxury with a whistle-stop tour of Southport's many attractions.
First up was the most famous. Southport's Grade 2 listed pier is the second-longest in the UK (after Southend's) and opened in 1860. It's just over a kilometre long, and you don't even half to walk it thanks to a "land-train" that chugs its way back and forth all day.
You may wonder where the sea went. The first half of the pier crosses land (and the beautiful Marine Boating Lake) before even reaching the beach. Then the tide often goes so far out, you can't see it. The healthy sea breeze is always in evidence though, and your long walk along the pier is rewarded by a striking modern pavilion with floor to ceiling windows at the end. This gives great views of the Fylde coast to the North and even Blackpool Tower on a clear day.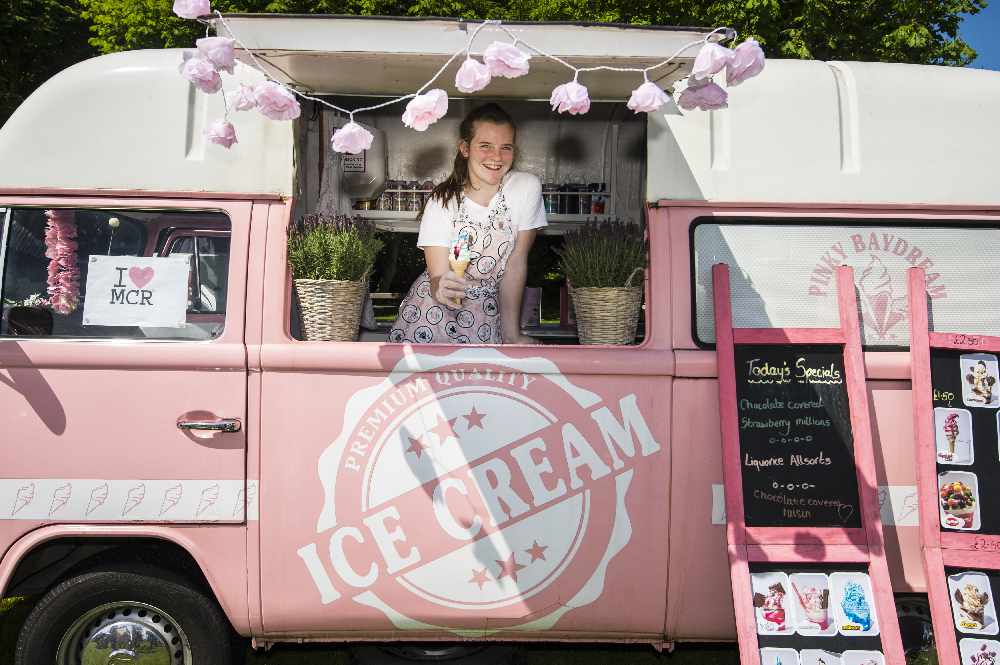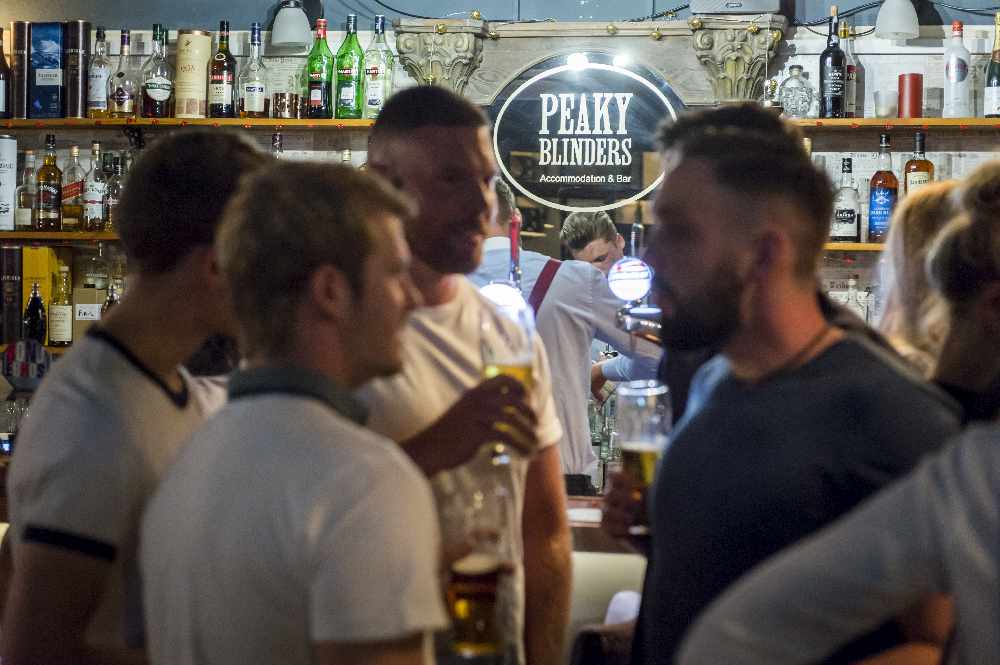 Look out for Ocean Plaza half way along the pier. It's a new development which the Fast Food Rockers would be delighted to note has a McDonalds, a KFC and a Pizza Hut all next to each other. There's also bowling, a Vue cinema, other restaurants and a skate park. I love the way these so-called family facilities are placed in their own zone - away from the Victorian splendour of the lake, the duney beaches, and in the other direction, Lord Street and the town centre.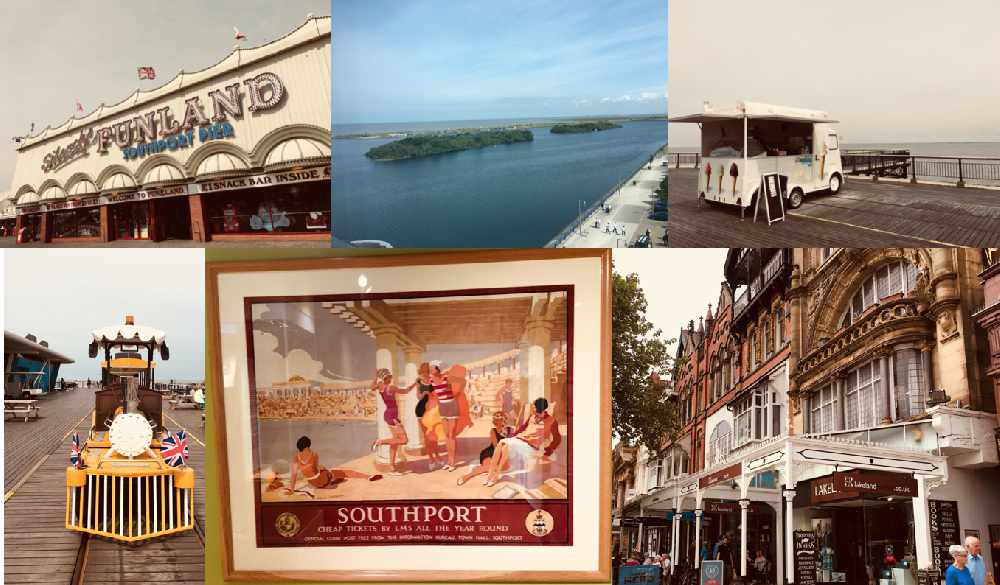 A short walk along Nevill Street towards the centre of town reveals the Kiss Me Quick attractions. Every flavour of ice cream you can imagine, from the obligatory 99 to the ubiquitous salted caramel and Oreo; seaside fish and chips; and bucket-and-spade merchants are here. All before a smart new bistro and the striking war memorial plaza indicate you've arrived in Southport's famous Lord Street. The flower gardens and original Victorian canopies over the pavements complement a surprising number of indie shops and elegant arcades.
There's good food here, too. I had lunch in a toilet. Well, a former toilet. The El Rincon Bodega is a tapas place underneath Eastbank Square, in what used to be the town's main public conveniences. It's now a smart and cozy place to enjoy good Spanish food and a great wine selection.
El Rincon is handy for the Atkinson, the town's main cultural centre, combining Art Gallery, Museum, Library and Cafe. I spent a fascinating hour reading up on the history of the Sefton coastline - including the story of 50s comic hero Dan Dare creator Frank Hampson, born and brought up in Southport. Another more grisly tale focused on Britain's last hangman, Albert Pierrepoint who retired in the town.
If like me, you always have to seek out the most unusual tourist attractions a town has to offer, don't miss The British Lawnmower Museum. Really. Tucked into the back of a TARDIS-like hardware shop, it's a labour of love for ex-racing champion Brian Radam. On paying your £2 entry, the turnstile clicks to let you in to a world of, well, lawnmowers. The loudspeaker cranks up and recounts a strangely-more-engaging-than-you'd-think history of lawnmowers as you walk around checking out the goods. They include 'lawnmowers of the rich and famous'. The lawnmower wedding gift to Charles and Diana - and a camped-up drag mower owned by Lily Savage are probably those with the gayest interest.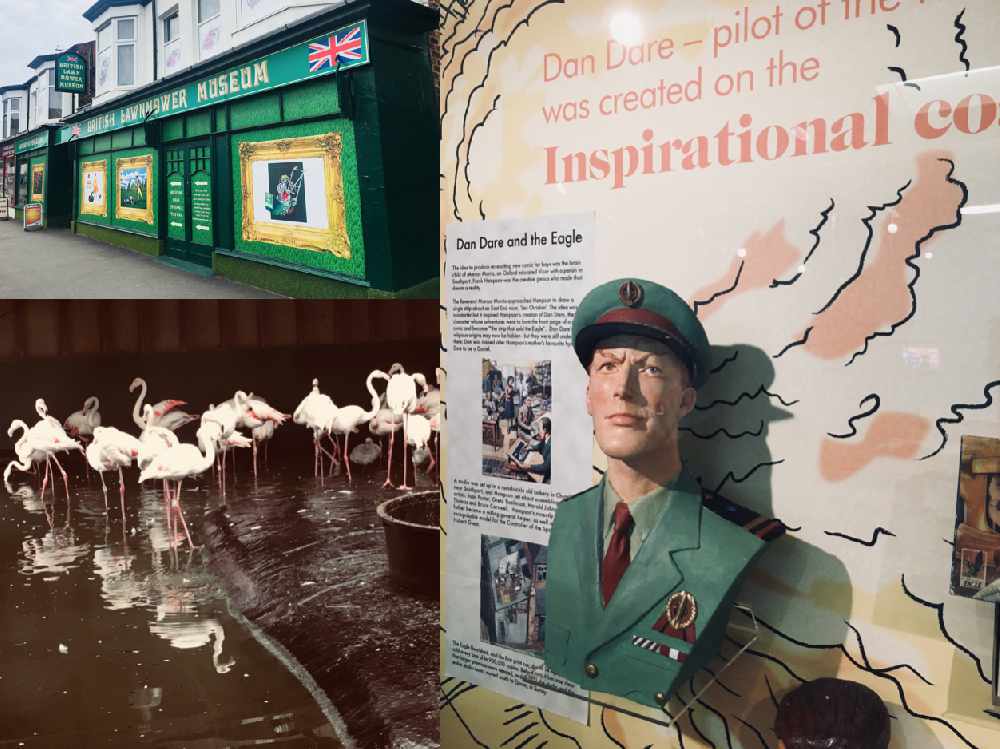 The 2008 Open Golf Championship came to the Royal Birkdale club in Southport, inspiring the development of two new smart hotels in the resort. I stayed in the Ramada Plaza in Lower Promenade. Push the boat out - you are beside the Marine Lake after all - and upgrade to a Bliss Room on the top floor for added luxuries like a Nespresso machine. The other stylish hotel is the indie Vincent, on the town side at Lord Street. This is also home to one of the town's top restaurants, open to non-residents. They serve brunch from 7am, and a casual menu and afternoon tea during the day.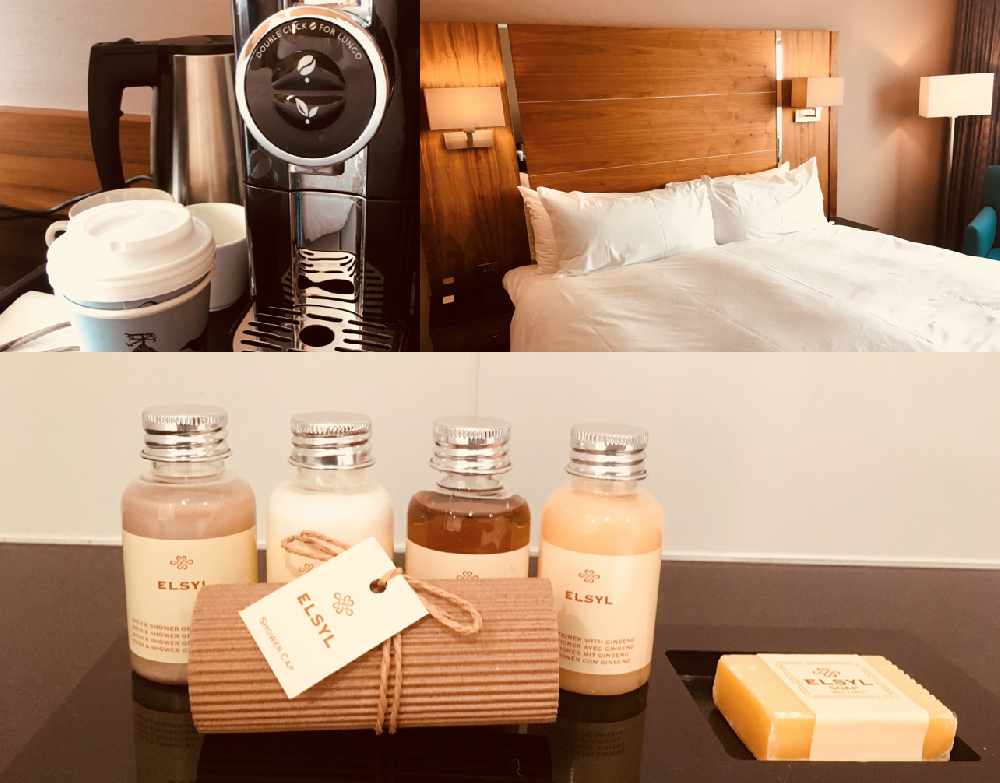 I dropped in for dinner to find a friendly mix of older couples who still dress up to come out to dinner, alongside tattooed millennials in jeans and T shirts. You're lit by a bizarre selection of bottomless teapots, strung from the ceiling as a centrepiece, while a glass wall onto Lord Street makes you still feel like part of the action. I went for the steak (very good) but they also make their own-range sushi for here or to go. And if raw fish isn't for you, "gringo sushi" replaces the tuna and salmon with cooked duck, chicken and pork.
The next morning, I made the short drive to Churchtown, a Southport suburb that looks like the side of a biscuit box at Christmas. Pretty timbered and thatched cottages around a village green. And also the home of the town's Botanic Gardens. It's a great place to get lost on the network of pathways, getting ideas for your garden at home. An aviary, a lake and a cafe serving home-made, not bought in, snacks make this a fun and relaxing place to while away an hour or two.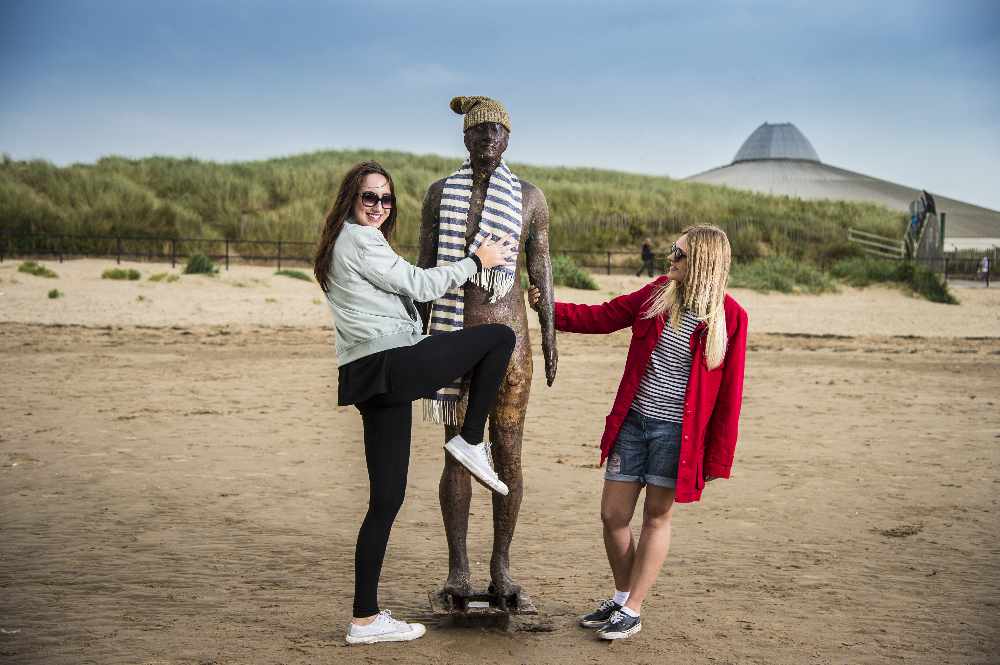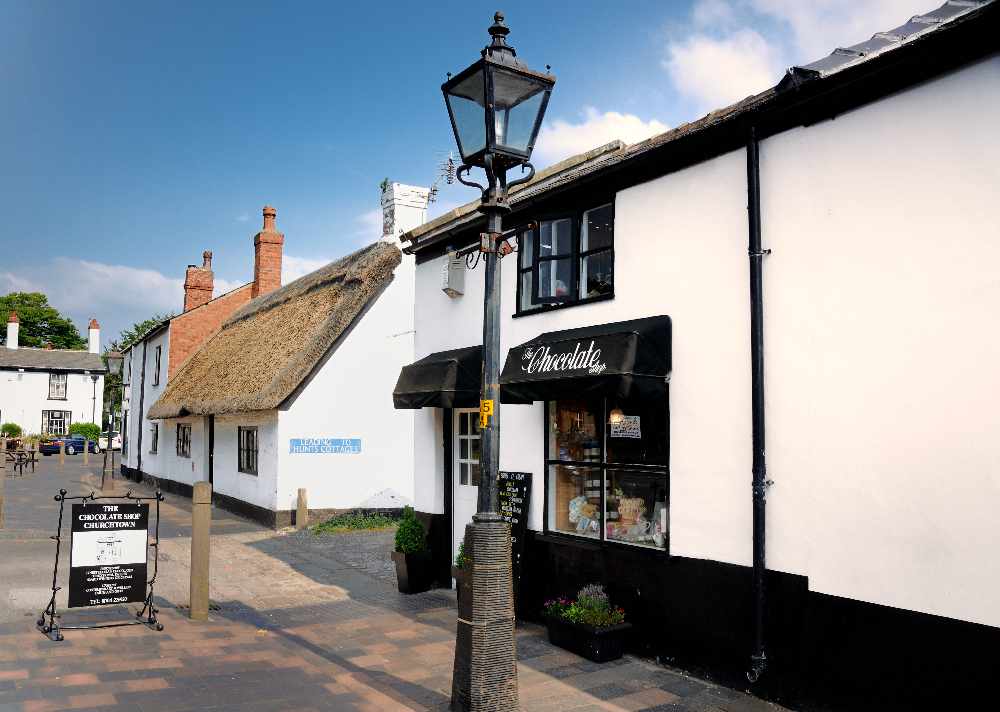 For more exotic wildlife, I finished my Southport experience with a morning at Martin Mere Wetland Centre. Based alongside a massive freshwater marsh ten miles out of town in the West Lancashire countryside, it's a nature reserve famous for its whooper swans, pink-footed geese and flamingoes. The slightly camp interpretation panels are a hoot (literally) describing one particular animal, the Red Crested Pochards as 'boys with big red funky hairdos'. It was a perfect wind-down to my trip to wander around the streams and lakes getting up close with this exotic range of birds and other animals. You can buy £1 bags of seed from vending machines on site to treat the residents (and visiting pigeons) to some breakfast before getting some lunch of your own at the on-site cafe.
For the hundred men on a beach, you have to head further south. Another Place is a striking art installation at Crosby between Southport and Liverpool. The men are all made of cast iron and based on the artist Anthony Gormley. He's also the man behind Gateshead's Angel of the North. Each figure is anchored to the ground, and the sea comes in and out, swirling around the statues with each tide. It's peculiarly striking and definitely worth the trip out if you've never seen it and you're as close as Southport.
So if you want a gay break in the North West, you'd probably put Manchester, Blackpool or Liverpool at the top of your list for a scene-y time … But if you're tired of the bars and the chase, or if you want somewhere classy to enjoy with a partner or a pal, with a range of chill-out attractions, good food and shopping, plenty of opportunities to enjoy the great outdoors - and lawnmowers - Southport's a gem.