Elevation: Mountains of fun on a Mammoth scale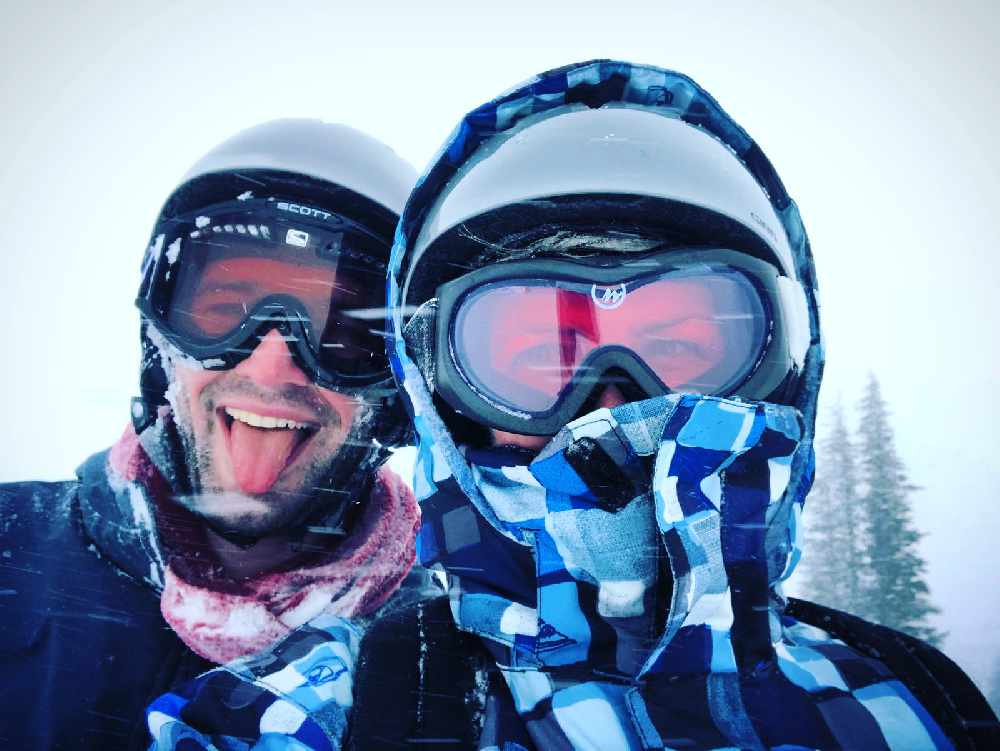 We Brit's tend to head to mainland Europe for winter-sports. But California offers so much more to you as a destination.
Producer Jake, headed out to Mammoth Gay ski week with Adam Turner & Emma Goswell. Read about their adventures below, and listen to their highlights here: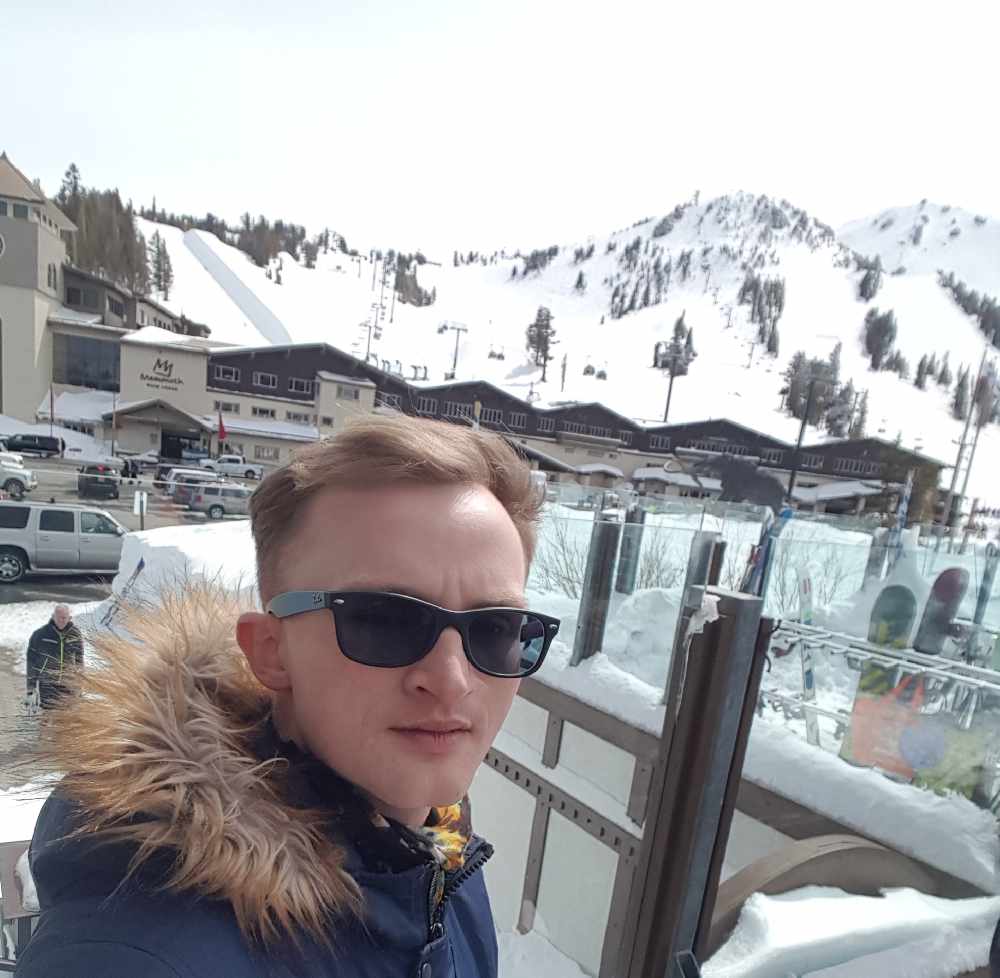 "Mammoth?", I hear you ask. It's on the Eastern edge of California, high in the Sierra mountains. It's somewhere in between San Francisco (on the sunny western coast) and Las Vegas (slightly across the border in Nevada). Just far enough away to feel like you're in your own little world, but close enough to other places to drive somewhere else.
Where else could you ski in the morning and surf in the Pacific in the afternoon?
Or snow board before eating pancakes for breakfast and be on the strip in Las Vegas by teatime?
A holiday in Mammoth Lakes offers the possibility of all that, and more! It's the go-to ski resort for the likes of Pink, Gwen Stefani and Justin Bieber - to name just a few!
And if you're keen to hit the slopes while partying with hundreds of other LGBT like-minded people, the best time to go is for Elevation Gay Ski Week.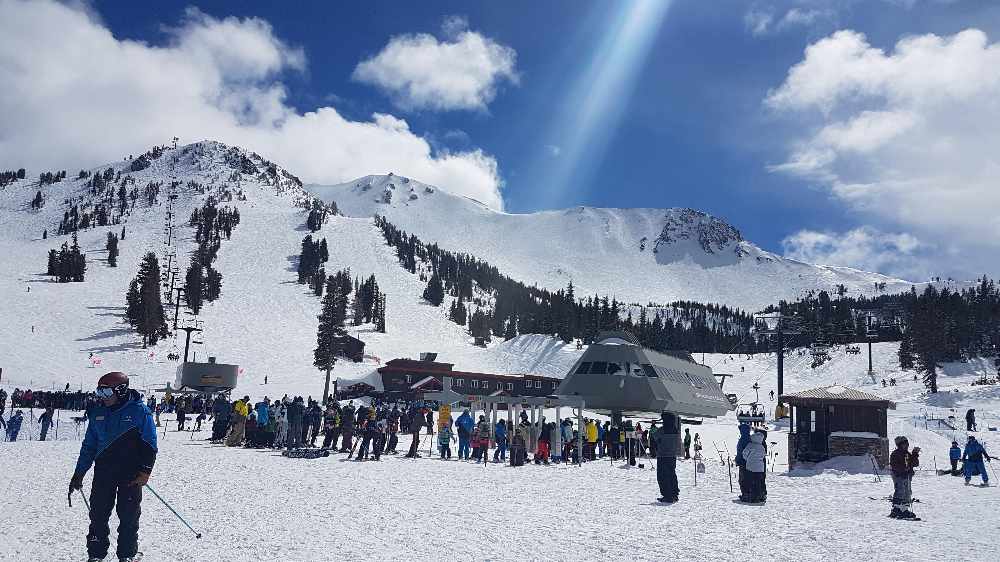 What is Elevation Gay Ski Week?
Elevation Gay Ski Week offers you the opportunity to embrace the best in snow-sport activity whilst offering the best selection of mixers and nightlife the Californian mountains have to offer.
Just celebrating their sixteenth year, Elevation draws hundreds of returning customers, whilst welcoming countless new people to the snowy capes of Mammoth Mountain. Elevation is the place to be if you want to enjoy the outdoors and get your poles out (or not, if you're snowboarding). From ski-based hook ups to lunches, bowling nights and fancy dress competitions to club nights - featuring the hottest DJ's from L.A. - Elevation has something for everyone!
Mammoth Lakes is an inclusive, secluded, welcoming community where everyone knows everyone, and everyone is always happy to chat with you. We chatted to people in the queue for breakfast, in the gondola cars going up into the peaks, in the bars and the restaurants - pretty much everywhere! There's no prejudice, no homophobia, no bad air anywhere. You've never met a nicer town where everyone has a smile on their face: and that's why it's the best location for Elevation!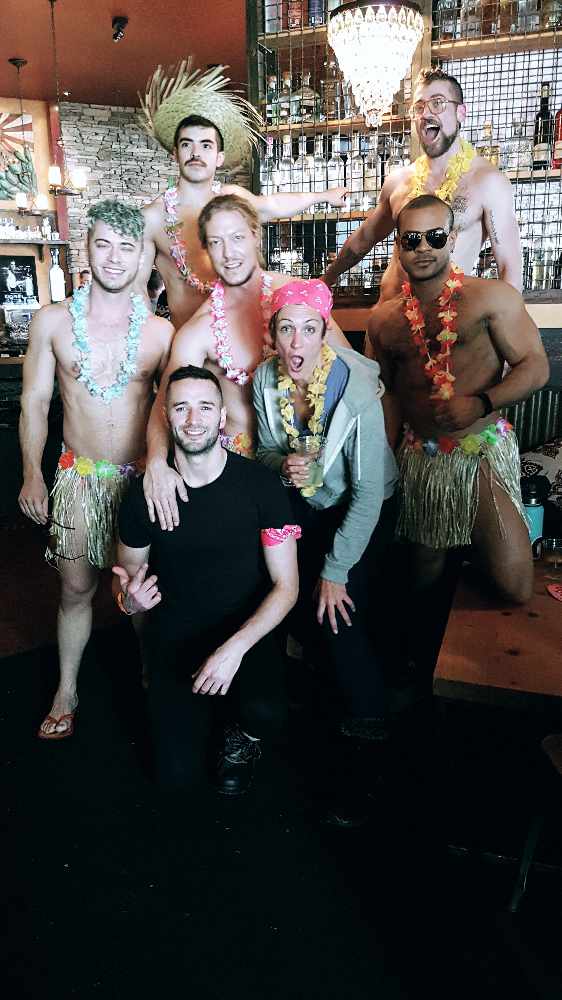 Your ability to ski or snowboard is no issue either, with runs of varying levels of difficulty available - from green up to Double Black Diamond. There's a run for every capability. There are also a group of very talented, patient and friendly instructors ready to show you the ropes if you're a beginner, or give you new skills if you're looking to improve on your current knowledge.
I was a complete beginner, and I had a lovely instructor called Deb who couldn't have been nicer to me! Whilst I got to grips with my left and rights, Emma and Adam were high in the hills whizzing about on their snowboards at their more advanced/ competent ability level. Regardless of where we were on the mountains, we were all having the absolute time of our lives! If you're not able to take your own equipment with you, there's a fine range of rentals available for you from Canyon Lodge.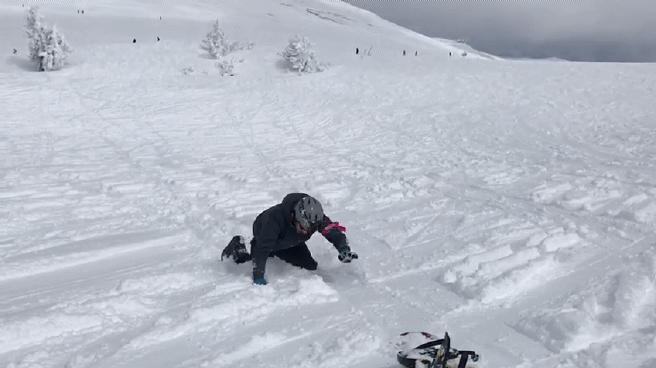 If, like me, the thought of learning to ski or snowboard gives you palpitations, and truly tragic memories of nightmare PE lessons in school, then fear not! Just relax and ride around on the many gondolas (or cable cars as we call them) available. I travelled up and down the highest peak in Mammoth just via Gondola, and had the time of my life! The views across the Sierra were absolutely stunning. You really could see for miles around - and on a clear day you could see as far as Yosemite!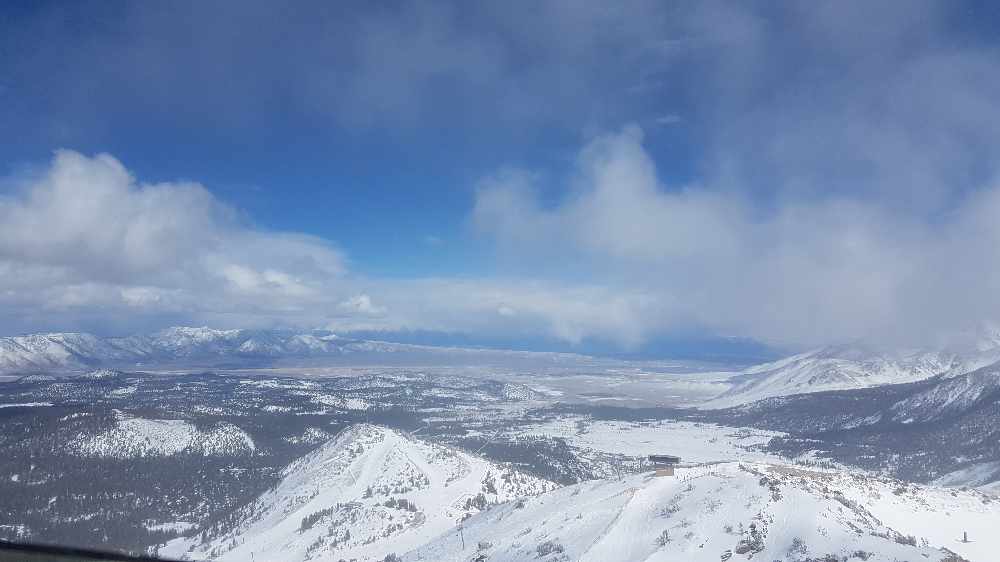 What's it like for Food and Nightlife?
There's plenty to do at the foot of the mountain as well, with Mammoth playing host to a wealth of eateries, drinkeries, and entertainment venues - including a bowling alley.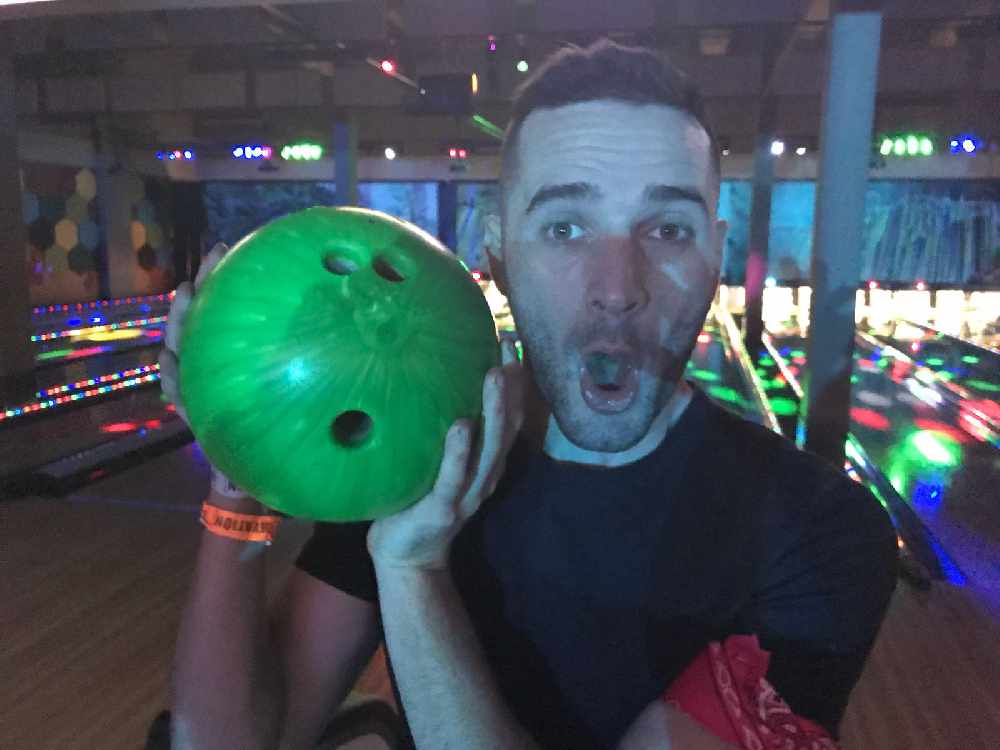 Trust me, go bowling in America. It's so good.
Skadi - Ideal if you like fine Alpine cuisine, with a Scandinavian twist.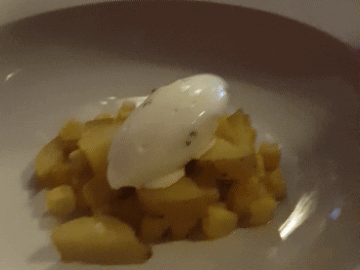 Kitchen 53 - You've never had a nicer cocktail
Smokeyard - Ideal for drinks after getting off the slopes
Lakanuki - We all love a bit of a Hawaiian!
Toomey's - Get the Coconut and Mascarpone pancakes. Do it.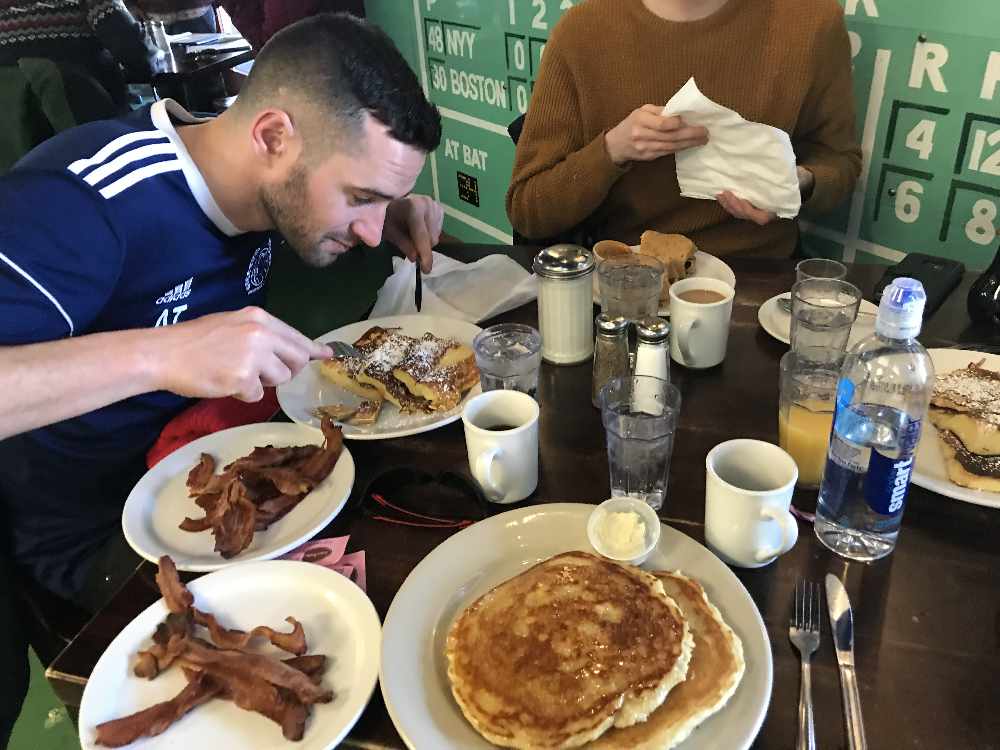 Gomez's - Over 650 different types of Tequila.
What's it like up there?
Join the mile high club without even getting on a plane! The town of Mammoth lies eight thousand feet above sea level - with the top of the mountain a mouth-watering 11,053 feet (for reference, the highest point in the UK is just under four and a half thousand). This may mean you find yourself out of breath from exercise that you'd otherwise be able to walk away from. It will also mean that alcohol will affect you a bit more. You are warned! Drink plenty of water - in case of dry mouth. And beware of chapped-lips.
There were so many places to sit and chat, be it with food or drink. And you were never without a breathtaking view of a snowy mountain, or a snowy road, or a snowy roof, or a snowy tree. Literally just snow everywhere. Proper snow too - I'll never class what we have in the UK as "snow". I remember my friends complaining about four inches around the same time we were in Mammoth dealing with four foot! The views I saw will literally stay with me forever!
You might even find a Woolly Willy!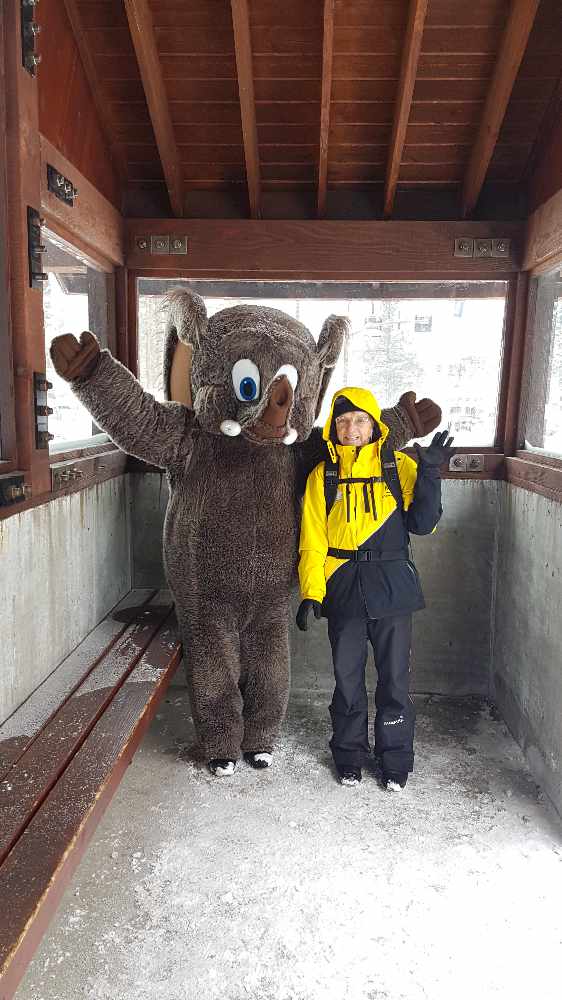 How Do I Get There?
We flew there with United Airlines - who offer comprehensive access to the USA from Four UK Airports, and onward connections to over 280 further American destinations! We chose to fly to San Francisco and take a connecting flight to Mammoth Lakes. From three course meals in United Economy to 180 degree flat-beds in United Polaris Business Class - You won't just arrive at your destination - you'll arrive refreshed!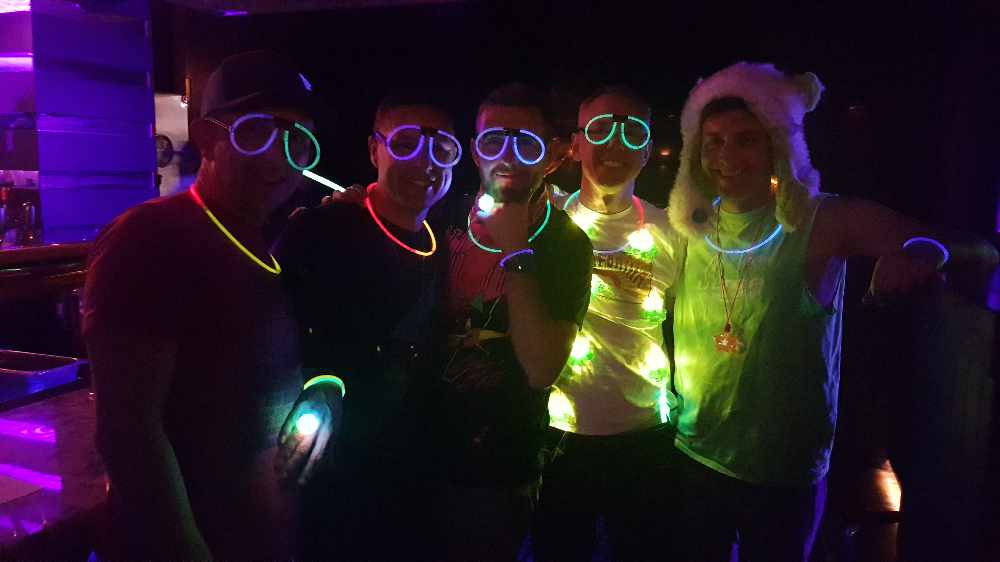 What else can I do when I'm there?
If you're going all the way across the Atlantic then why not incorporate Mammoth as part of a bigger Californian trip? Mammoth is only a few hours drive from dream Californian destinations including San Francisco, Los Angeles, and Las Vegas. Head straight from the Gondolas to the Golden Gate Bridge; from the slopes to the slots, from the Pine Tree Woods to Hollywood - just embrace the full American road trip you've always wanted! Mammoth Lakes is a year round resort too, with the area turning into a Mountain Bike resort in the Summer, when the snow disappears!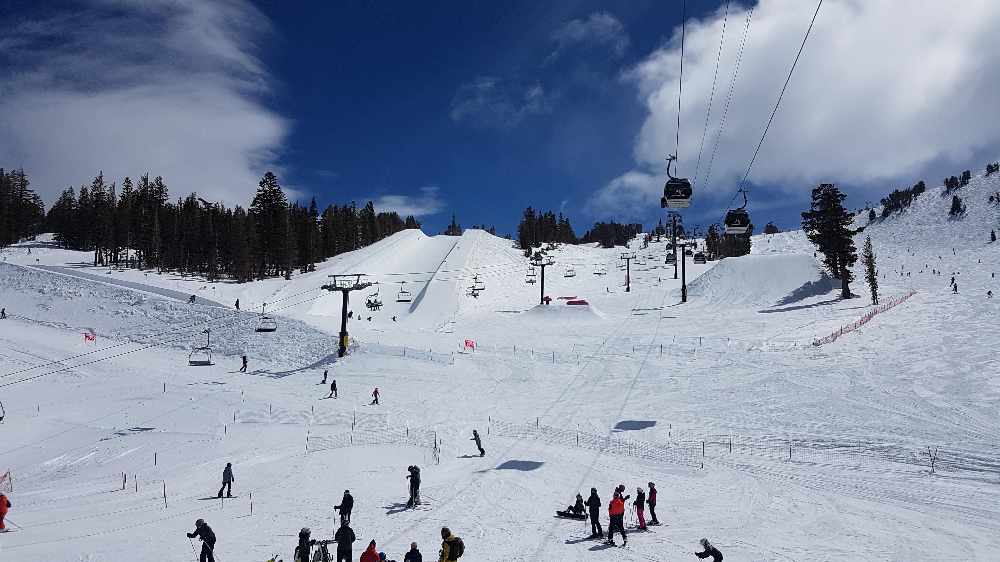 "I wanna go!"
Elevation Gay Ski Week is a holiday you must experience, and you can find out more information at their website at mammothgayskiweek.com.
For more information on Mammoth Mountain as a year-round place, check out visitmammoth.com.
For information on flights and travel, then check out United Airlines at united.com.