Berlin

It's well known that Berlin is Germanys gay & lesbian capital and quite rightly so, if there's anywhere that can teach other countries about open-mindedness and tolerance than this is it, with a wide assortment of bars, restaurants, comedy clubs and even the regular street party and outdoor festivals it's no wonder this destination is quickly becoming the gay hotspot of choice.
Of course not only is Berlin enriched with such a vibrant and engaging culture, but it is a city steeped in history, it has boasted an openly gay mayor, has its own gay museum and its own memorial to homosexuals who died during the holocaust and of course the removal of the Berlin wall.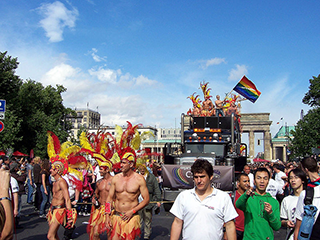 Gay Pride:

The Berlin Pride Celebration, usually known as CSD Berlin, is a parade and festival held at the end of June each year to celebrate the LGBT community (CSD stands for Christopher Street Day). This event has been running now since 1979 and is known as one of the largest gay and lesbian organised events in Germany and Europe. It's origin is to celebrate LGBT culture.
Whilst many consider the whole city to be gay-friendly, there is still a wide variety of 'neighbourhood' areas where you can find all the required bars, cafes, restaurants and shops, Schoneberg aptly named the "Rainbow Village" is considered the main gay area located in West Berlin, whereas in East Berlin Prenzlauer Berg has transformed into a trendy district which is in contrast with the more alternative parts.
Berlin's nightlife is remarkably

diverse, there really is something for everyone as Berlin caters for any and all tastes so no matter what you are into, they've got you covered. Clubs have no specific closing time either, so for those of you up to the challenge you can keep the party going all night long.
'Food' for thought:
We obviously can't mention Berlin without highlighting all those local delicacies you need to try, sure you've worked hard all year for those shoulders and abs, but how about taking the time out and enjoy a wide range of Schnitzels. Still got a craving to get some extra calories? Then why not try a Berliner Pfannkuchen, the choice is endless and will cater for foodies for all varieties.
One to Visit:
Berlin has its very own
LGBT Museum
(visit through google to translate), Which enriches its visitors to homosexual history, art and culture in Berlin, including the persecution of homosexuals at the time of the 3rd Reich, the museum also regularly hosts lectures and film screenings and is definitely not one to be missed.
For up-to-date information and more on the adventures you can find in Berlin Click Here

Flights to Berlin from Manchester Airport operate on a regular basis weekly