Mykonos


You know you've arrived at a holiday hotspot when you discover one of the local beaches is called 'Paradise Beach'. Not to be outdone, the neighbouring gay beach is known as 'Super Paradise Beach'. Welcome to Mykonos, playground of the Greek Gods and where even the beaches fight it out to be the most popular.
Mykonos is well known for being a gay destination, more so than the other Greek islands. Back in the 70's it is said that frequent visits to the island from Jackie Onassis and her entourage made the island a chic and trendy spot to be, which in turn attracted gay men who wanted to indulge in the same luxuries. Mykonos does have a very different feel to it than Sitges in Spain or Playa Del Ingles in Gran Canaria. So don't expect concrete shopping centres filled with drag bars or the variety of bars and clubs that Sitges has.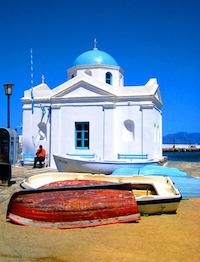 When you are ready to stray from Mykonos' beaches, bars and clubs you'll find yourself experiencing the picturesque windmills and whitewashed roads which point to an altogether different side of the island. This is where you'll find the gentle pace of Mykonos life is untouched by the summer invasion of tourists.
Must see: If discovering authentic Greek Gods is your thing, then take a quick trip by boat to the nearby island of Delos, birthplace of Apollo. With just 14 inhabitants but millennia of history, it's one of the most significant archaeological sites in all of Greece (and a UNESCO World Heritage site to boot).
Must eat at: Aqua Taverna in Little Venice has it all – food, views and romance, all in the mix. Go and you can expect a menu full of Italian/Mediterranean specialities including lobster risotto, steamed mussels and more. Make sure you sample Mykonian specialities such as kopanisti (salted white cheese), soumada (fermented almond cordial), amygdalota (almond confectionary) and ouzo (aniseed spirits).

Must be there for: In August for the annual International Gay Leisure Festival, otherwise known as XLSIOR Mykonos. Originally launched in 2009 and now attracting over 30,000 gay travellers from all over the world. Find out more at their website at www.xlsiorfestival.com.
Nightlife: The gay scene is varied for all ages, but the most popular bars/clubs are Babylon and Jackie O's and the newest addition Glam Mykonos.
In Mykonos you can enjoy the best party atmospheres, admire amazing natural landscapes, and lose yourself into maze-like traditional white alleys of a picturesque village.

Flights to Mykonos from Manchester Airport with easyJet are every Wednesday and Saturday from the 20th April 2013.