Getting Upfront
Welcome back to Gaydio Nik. How was your short break?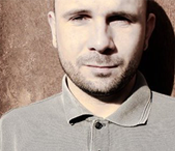 It flew by and didn't feel like I'd been off air for a month. But it's great to be back, I really miss not doing the show when I have time off. I have to say a massive thanks to William Sizen Bell for covering whilst I was away. I didn't get to hear much of what he did but I hear he did a good job.
What did you get up to whilst you we're off? Was it business of pleasure?
It was a bit of both. There was lots of work but I managed to get squeeze a family holiday in as well. So a pretty balanced time away.
You've returned with a new look show called Upfront, what's it all about?
I've been at Gaydio for almost two and a half years now and before I took my short break I thought if the show was to have a revamp it was the right time to do it when I returned. So I discussed it with the team at Gaydio and agreed that it would be the right time to make some changes.
The new show launched on 20th October and although musically it hasn't changed I'm now concentrating on more upfront releases and the show will have a top ten upfront house chart each week. It's great because I feel more focussed on actually listening to all the promos I'm sent now. It's given me a kick up the bum.
The show is part of Cruz Saturdays on Gaydio, and in particular your show is in association with Aftershock where you DJ every Saturday. Aftershock seems to be going from strength to strength in recent months… Would you agree?
Of course. I think if you speak to anyone in the clubbing industry I am sure they would agree that it's pretty hard going in the current financial climate, so it's so good to see Aftershock doing so well. With the new show being in association with Aftershock I'm hoping people who haven't been will get a good idea of what the music is like through listening on a Saturday night. We have a brilliant team at Aftershock and I think that's the key to the night continuing to be a great success. We like tipping things on its head at times just to keep it interesting. We also have some massive parties planned over the coming weeks and over the festive season.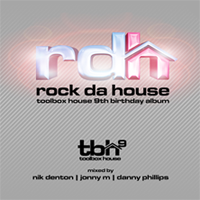 You have a new album out on your record label Toolbox. Can you tell us more?
It's a celebration of 9 years of Toolbox House. The label has had a really successful 9th year and it just felt right to do something massive to celebrate.
It's the first time I've done a big birthday celebration and to be honest I was going to hold off until the tenth birthday because it made more sense to do celebrate a decade. But like I said, our 9th year has been the best ever, so the album just feels right. We've just finished a small UK tour too to celebrate and promote the album.
It's mixed by myself, Jonny M from London who just released his awesome anthem "In The Rain" that was play-listed on Gaydio, and Aftershock DJ/producer Danny Phillips and is out now exclusively at beatport.
Finally, apart from heating you on Gaydio every Saturday at 10pm where else can people find you over the comings weeks?
After doing the Toolbox House tour and being away from Manchester quite a bit recently I've committed to being at Aftershock every Saturday more or less right through until the end of the year, so that's where you'll find me. Although I'm playing at Trade's 22nd Birthday in London on 27th October at the Sidings Warehouse which is going to be huge!
Catch Nik Denton: Upfront every Saturday night from 10pm. And view his latest Upfront Chart here.
Nik's album "Toolbox House 9th Birthday" is out now at Beatport. Click here.