On a gloriously sunny Thursday afternoon I was whisked away to Manchester Airport (
http://www.manchesterairport.co.uk
) 'oooh' I hear you cry - 'where is Chris going?' 'is Holliday off on holiday?!?!' Alas not. My weekly challenge was to scare birds at the airport. Apparently they can be quite dangerous. Something about flying into engines. Eek. But fear not, the lovely people at Manchester Airport have got it covered. There's a team whose job it is to drive around the airfield spotting birds and playing them distress calls to scare them away. If they're being particularly stubborn they get a gun out. Don't worry - it's only the bang that scares them - there's no deal going on with the air-side restaurant in departures - 'ooh I'll have the roast magpie ta...'
So Paul (the bird man), Katy (press office) and myself (having a blond day) headed out in the pimped up vehicle - like a poor mans A-Team. Armed with a bird book and a pair of binoculars - we were off. Spotting birds. Playing loud squarks. Saving lives. Just another day. Katy was particularly hot at it. In fact, at points she zoned out - so hell bent on finding those lesser spotted tits she was.
After a good half hour, Katy and I left Paul to it and headed back into the terminal building. I was surprised to discover that you could get a flight to Blackpool - until Katy pointed out that I was looking at the train station departure board. As I said, I was having a blond day. Anyhow - I had a lot of fun - big thanks to the airport for another super challenge.
It was a loud bang...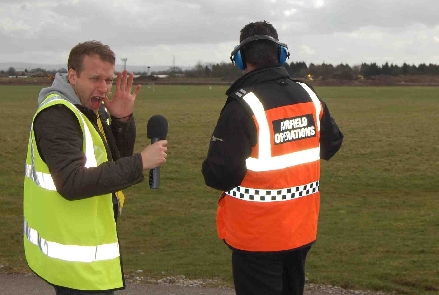 The pimped up bird-scaring machine (a bit like Peter Stringfellow) -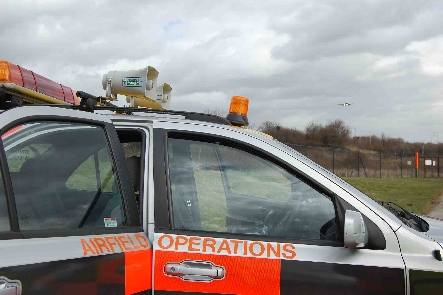 Next weeks challenge is musical apparently. ARGH. Find out more on Monday.
I had a fun Thursday night - Producer Jamie sent myself and Emma Goswell off to the Ice Hockey!!! And I LOVED it. The pace can only be described as FIERCE and the men are rather buff (Emma pointed out afterwards that it could be the padding). I think Jamie has something up his sleeve... I'm sensing a challenge coming on. If you fancy a night out with a difference check out -
http://www.manchesterphoenix.co.uk/
Have a fabulous weekend. Play safe now.
Cx