Gaydio In Brussels
At the heart of every business are individuals that form the backbone to the company, in this case the two of us, me, known on-air by 'Office Ellis' and my colleague 'Office Ian'. Both of us work behind the scenes at Gaydio HQ and no we won't be taking on any shows any time soon, you can leave that to our great presenters. We were tasked by Gaydio Breakfast's Paris and Dave to cover everything Brussels has to offer for an LGBTQ+ traveller including joining in all the celebrations around Brussels Pride. After Paris mentioned there was free food, drinks and the chance to party in one of Europe's busiest Prides we reluctantly agreed to the challenge. I say reluctantly agreed, we literally grabbed at the opportunity.
We decided to fly to Brussels since we were travelling from Manchester, Ryanair flights for £12 return, bargain and with the flight taking only an hour, great for a 72 hour trip away. Alternatively you might decide to take the Eurostar direct into Brussels city centre as well as taking in some astounding views. Now when we arrived, we arrived in pretty late to say the least, we didn't actually arrive to the hotel until 11.50PM after arriving at the sister hotel 9Hotel Central. For this trip we stayed at 9Hotel Sablon and honestly check-in couldn't have been easier. The hotel is a mix of contemporary style with some 1940's-1960's inspired pieces, designed to resemble an art collectors apartment. The bed FYI was one of the comfiest I've stayed in.
Question. It's the first night, its gone midnight, what do you do? Of course we left to go and explore the city. This wasn't Ian's first time in Brussels so we headed to the Gay Village, Rue du Marche au Charbon close to the main square. If you've not been before it's a small cobbled street with around 7/8 gay bars. Le Delores was one of the first bars we tried, it's a quaint little bar playing throwback gay anthems but we decided to drink outside, as Brits abroad, 15 degrees at night is pretty warm! It feels very European with people piled out in the street so you're never too sure who's drinking in what bar. The area has a great atmosphere to it and you'll soon be knocking back a few pints of Jupiler talking to complete strangers in a matter of minutes. The last part of the night saw us take our new found friends, with our European group, an Italian, Greek, Pole and 2 Mancunian's to get one of the local delicacies Belgian frites. After stumbling back to the hotel at 3AM we wondered what the next day would bring us.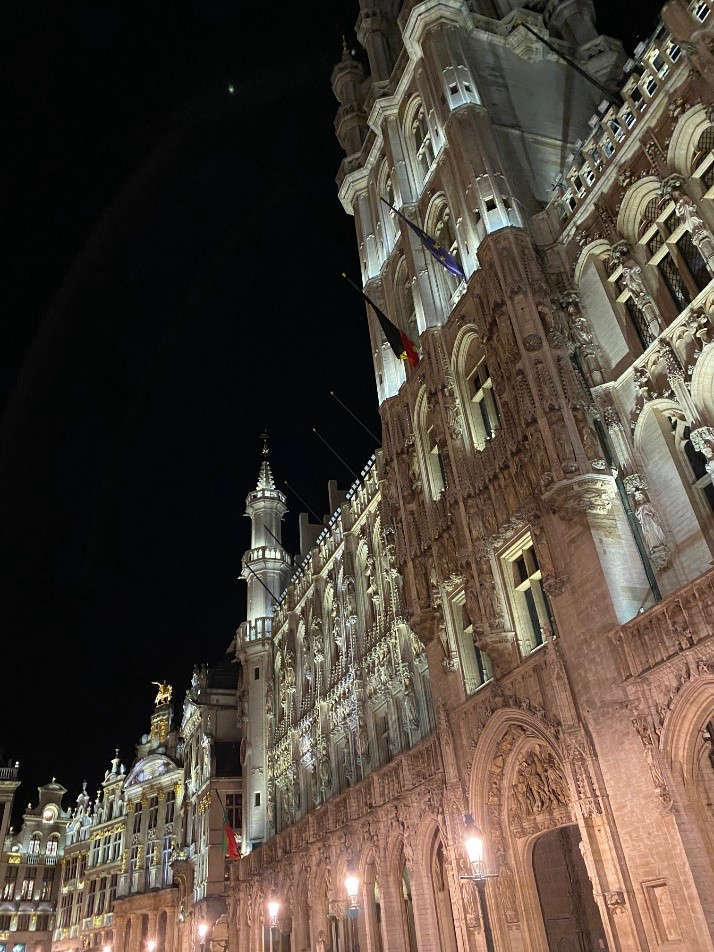 After nursing a sore head by scoffing down my weight in Belgian waffles from the hotel's great breakfast and getting a good dose of caffeine we hopped in a taxi headed for the Atomium. The Atomium is the big grey structure with lots of balls, the one you'll see all over Instagram.
It's only when you get into the structure itself you realise the scale of the spheres. There's bits on the history around how and why it was built (fun fact it was built for the 1958 Brussels World's Fair). There's also a really cool light show in one of the spheres with lots of strobe lighting suspended from the ceiling (maybe one to skip if you have epilepsy). I was told they also do some epic DJ sets in the space, so anyone from the Atomium if you can send my invite in the post and I'll RSVP straight away.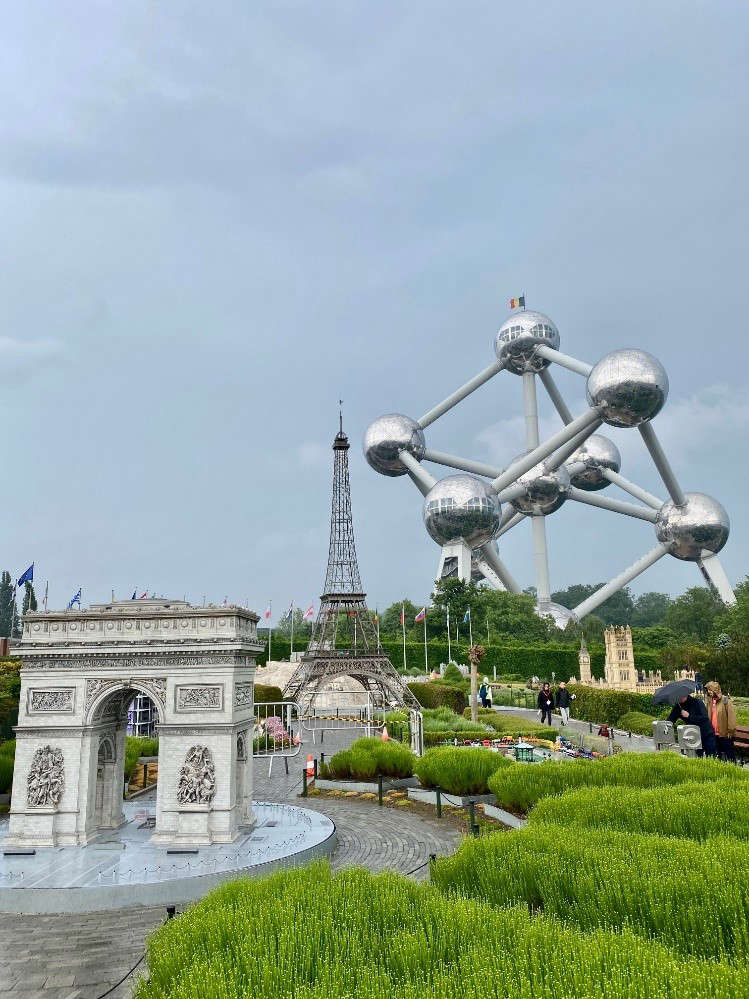 Literally across the road from the Atomium is Mini Europe- which is basically Legoland but each European country gets their own model/s. I don't know if it's constructed more for children but we had so much fun wandering round. It's well worth a trip, even with storm clouds above us it didn't take away from the amazing models, which are so detailed. As an FYI, The UK model of Big Ben and House's of Parliament included a mini Boris Johnson and even captured his dishevelled look.
The rest of the afternoon saw us having a good look round the city centre and after a fair bit of walking we stopped at Castro for a quick drink just off the Grand Place, it's a great gay bar to people watch and the owners are so lovely. As well as serving some great Belgian beers they also serve a drink called, well, it starts with an expletive followed by the name of a certain Russian President, you can probably hazard a guess as to what it's called.
Later that evening we wandered over to Brasserie Surrealiste which opened during amongst all the lockdowns and is already becoming one of Brussels best bars. The owners were helped by a crowdfunding venture, where they decided to purchase this amazing industrial building. Think lots of exposed brick, metal beams, concrete on show. It's a very instagrammable place and we even had a tour of the microbrewery downstairs so you get to learn exactly what you're drinking. We tried a couple of the beers and I then moved on to a smoky Old Fashioned- definitely worth popping in for a couple.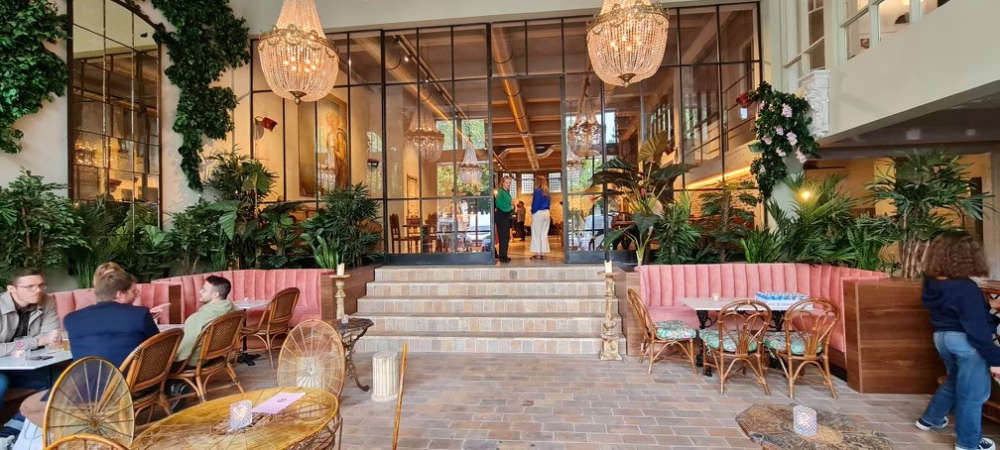 Not going to lie, the afternoon and evening was starting to turn pretty boozy, the Belgians sure know how to drink. It was at Chez Jacques where we tried some amazing seafood and I can definitely recommend the shrimp croquettes another of Belgian specialities and white fish of the day. We were joined by the Visit Brussels Tourist Board as well as the rest of our new press friends. After the food and several bottles of wine we made it out nearly 3 hours later, time flies when you're having fun. Suitably tipsy we left the restaurant and headed back to the Gay Village where Ian and I had spent our first night out. The street was even more busy, this night being the eve of Brussels Pride with people flooding the street. In a city like Brussels you always feel comfortable and the friendly nature of everyone makes it such an enjoyable place to be.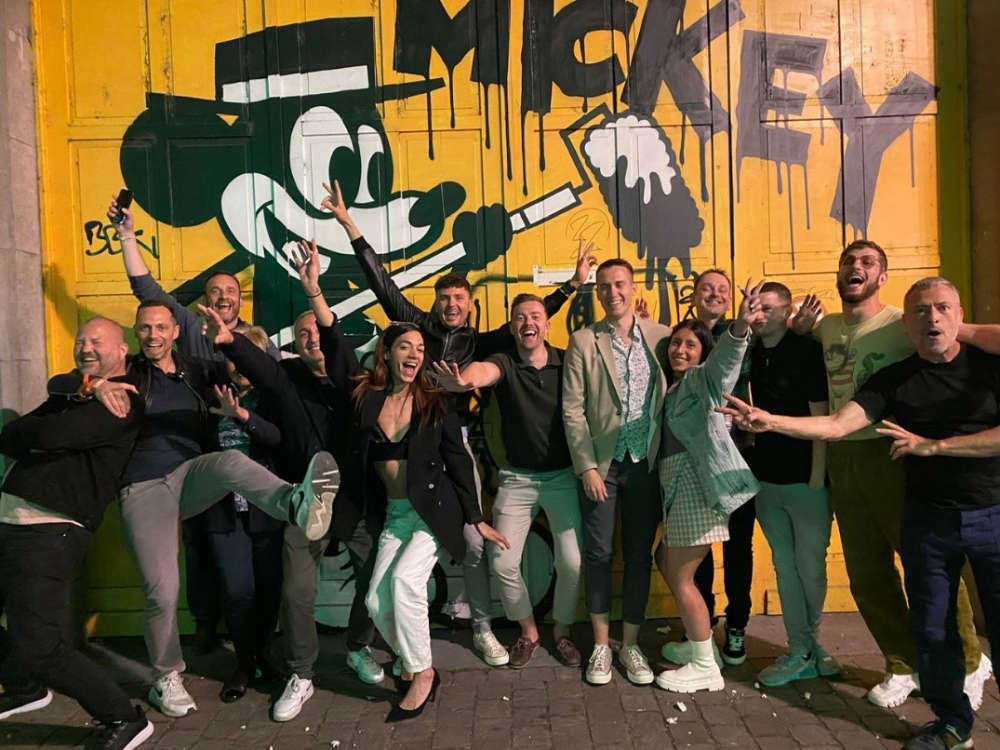 Since we only had 72 hours in Brussels, why wouldn't you go out out? So we did just that. Club C12 which opened in 2019 is the site of an old shopping centre behind the main Central station. We'd been given a 2-day Volume Night Pass (tickets can be bought online for 29 EURO) which gives you unlimited access to around 10 bars/clubs in Brussels. Bearing in mind C12 cost 20 euros to get into you'd have made your money and some by visiting just two venues. There's two main rooms in the club. As for the club that night, well we definitely didn't get the dress code for the type of night it was, I'll leave it there I think, let your imagination run wild. An experience all the same.
The next day I woke to the sounds of shouting in the street and fog horns, today was the day of Brussels Pride. As soon as you stepped out onto the streets there was an immediate buzz about the city with the city awashed with various Pride flags. Even people evidently not taking part in the parade and celebrations still seemed in great spirits.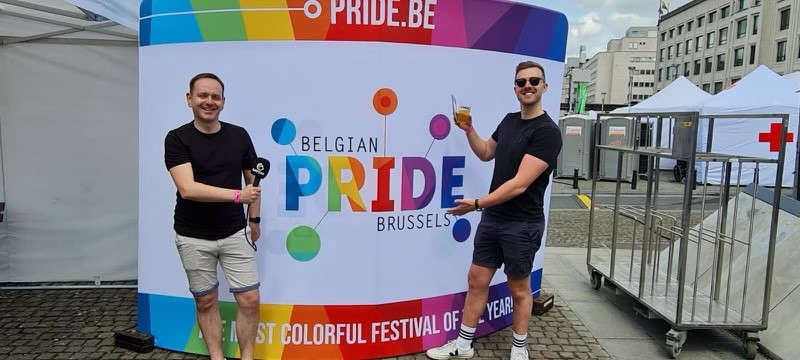 After we received our backstage passes, I mean we're VIP's after all we headed behind the main stage with our own private bar and got to see some of the acts who were about to head onto the stage. The day was an eclectic mix of street parties with bars getting their own stages- DJ's, singers and plenty of drag queens out in force to entertain the masses. The parade was great to see and take part in where all the walkers take a circular route round the city and it attracts a huge and varied crowd. Anyone can march in the parade and you really get the sense of community as you're doing so. Another perk of the Pride is you were allowed to drink in the streets (or at least we did…) and everyone is respectful of each other. The beauty of Brussels Pride is that there is something going on all around the city and I found it's fairly compact meaning you're never walking too far to the next celebration.
So after a full afternoon of partying and soaking up the atmosphere of Pride we decided to head to a Lebanese restaurant called Beiruti. We'd definitely recommend getting a sharing platter so you can taste as many dishes as possible. The food is traditional Lebanese with great flavour and the service was super attentive. I think the last 3 days of drinking had started to hit the entire party hard as everyone seemed to go into a food coma afterwards.
The last day, we all had a much needed lie in with the last bit of culture starting around midday before our flight back in the late afternoon. Ian and I took separate trips, I opted for a 10 minute taxi ride out the City Centre to a road which is basically Millionaire's Row, a mix of private residences and foreign embassies. I visited Villa Empain, a grand 1920's villa with a pool that could be straight out of Beverley Hills.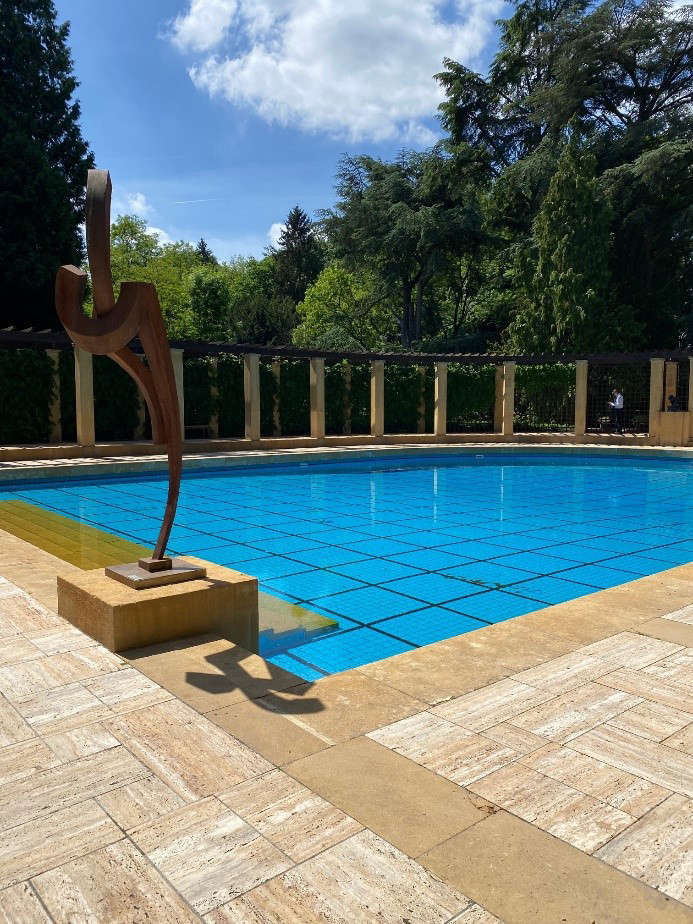 I'll admit I had a quick look on Rightmove and set my budget to unlimited (anyone else do that?!) so I could have a nosey at some of the other houses. After realising most of the houses were ever so slightly out of my price bracket I head down to Les Brasseries Georges- I'm going to put it out there, the best restaurant I went to in Brussels. This is definitely a place to be seen and if you like seafood you'll be in heaven. I had a variety of shrimp croquettes (yes making another appearance this trip), oysters, and sea snails a new one for me which you eat with a paprika type mayonnaise, all washed down with a couple of glasses of crisp white wine. You could have been mistaken to be in Southern France.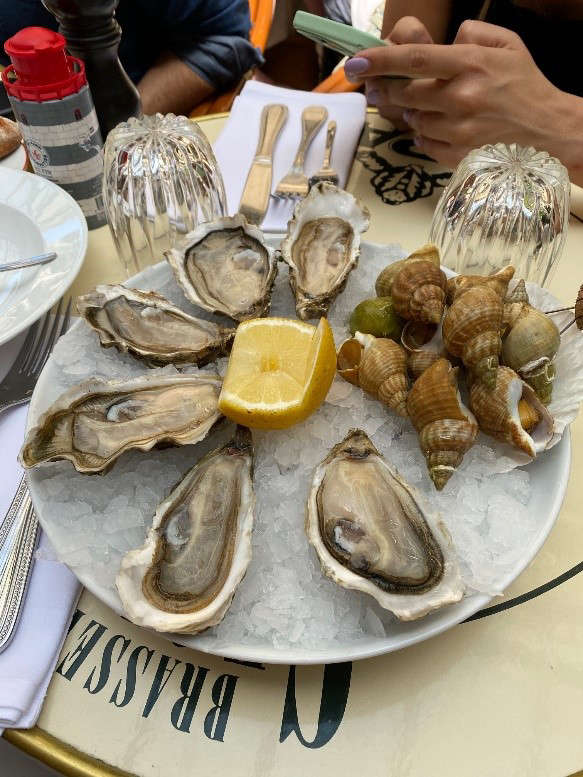 Heading back to the airport we reminisced on just how much we'd done in 72 hours and how long we'd need to recover from the trip. Given the time and cost it takes to get to Brussels, it's a no brainer if you're a first-time visitor or what I'll consider a veteran like Ian. With great architecture, food, nightlife and fun and friendly people, Brussels really should be your next city break destination.
Massive thanks to everyone at Visit Brussels (visit.brussels) for organising the trip, showing us round and generally putting up with us for 3 days! 😊