Stockholm: narrow streets, open minds
Darren Milby checks out the Swedish capital ahead of hosting Europride next year.
I'd never been to Sweden. It's one of those places that's always been on my list. ABBA Gold is always on my most played list. I also love it when they host Eurovision, I think Swedes have that same sarcastic humour that we have in the UK. And Mäns and Petra are just the best, especially Mäns!
The other stereotype about Sweden I've acquired over the years, relates to flat pack furniture. Not my forté unfortunately. After two hours shouting and messing about with an allen key, I'm still left with a couple of screws that must go somewhere.
I have this image of Sweden as a liberal, forward-thinking nation. So I went to find out what its really like and what better place to start than Stockholm Pride. Karin Wanngård has been Mayor of Stockholm for three years now. Her mission is to create a city where everyone feels welcome: "Pride is really important for us. Of course we can always be better but we like it when other countries can copy us."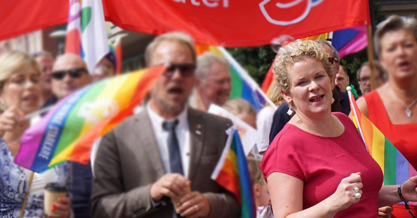 Pride is such a big deal in Stockholm that it's actually the largest event held in the city. 45,000 people take part in the parade which lasts over four hours and is watched by half a million people, wow. The whole thing flows into the huge Pride Park which is one big party with drinking, dancing, stalls and even a kinky corner. Somehow it has a slightly different feel to a UK Pride with less people staggering around trollied and more chilled. Maybe that's to do with Sweden's very different drinking culture. They do like a tipple but maybe not quite as much as us Brits do!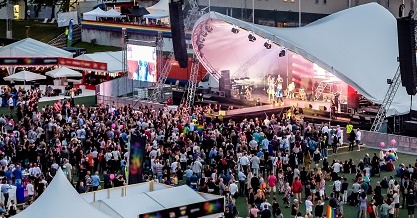 Sweden's attitude to equality has always lead the way. Homosexuality was decriminalised back in1944. Homosexuals were permitted to join the military in 1976 and they were pioneers of equal marriage in 2009. Sweden even had a gay King around 300 years ago!
Sweden is the obvious choice to host Euro Pride next year. It will be the first time the extravaganza has been held across two cities, Stockholm and Gothenburg.
When the rain stopped on Saturday night I took in the breathtaking view of Stockholm from Tak (tak.se/en/) a rooftop bar whilst sipping the local rosé. Every building from the Royal Palace and the Royal Opera House to the traditional backstreet independent shops proudly displayed the Pride flag. At that moment a huge rainbow appeared across the city skyline. It could not have been more perfect.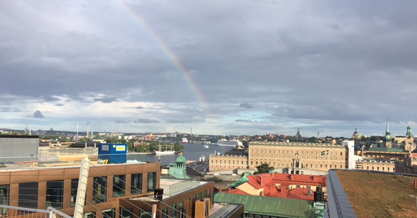 Stockholm is a city built on 14 islands. With all that water, bridges and historic architecture you will certainly need a camera. There is no way you can be bored here, whatever your reason for visiting. If you plan to party there is a fantastic night life. The gay scene is thriving. Berns is a cool bar with many different rooms, one of which is an old theatre auditorium. Perfect for dancing to high energy Euro pop. Trädgården has the most unique location, right under a motorway bridge. Which means they can make as much noise as they like until the wee small hours. My favourite bar is Mälarpaviljongen (malarpaviljongen.se/en/). This place is only open in the summer but on a hot day it is the place to be. Located on a pier with stunning views across the waters of Riddarfjärden. Just make sure you don't drink too much and fall in!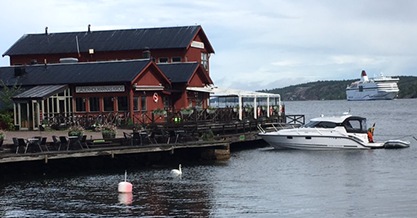 If you want to be a tourist, there is plenty to see and do. Including The Royal Armoury Museum featuring the extravagant costumes, carriages and jewellery from hundreds of years of Swedish Royal history. The Vasa museum is also a must. You can come face to face with the only preserved 17th century ship in the world. It's like something from Game Of Thrones. Our tour guide there was pretty cute too! The thing I was most looking forward to was Stockholm's famous ABBA museum. I'm quite the fan. The whole thing is really well done. You get to see the iconic costumes, see their recording studio and dozens of ABBA's gold discs. There is a red telephone which is said to ring occasionally and when it does it is a actually a member of the group calling. I loitered for ages but it never rang! I do feel though, that I connected with every member of the group, albeit tenuously. On the train from the airport Bjorn does pre-recorded announcements welcoming visitors to his home city. I was over the moon to hear that. I got chatting to a local tour guide who's mum went to school with Freda. A woman I met in Pride Park once saw Benny buying salmon in her local fishmongers. I got talking to a restaurant owner who's brother in law is a joiner and fitted Agnetha's kitchen. I'm now practically a close personal friend of ABBA!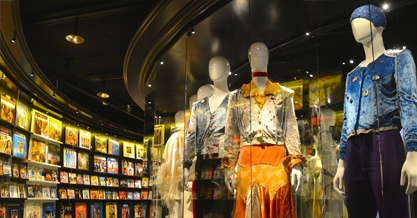 Getting to Stockholm is easy and it only takes a couple of hours. Monarch fly from Luton, Birmingham and Manchester and prices start from £42 (monarch.co.uk). There are plenty of trendy places to stay too. I was at Hobo which is brand new and hipster-chic (hobo.se).
I had a great time in Sweden. It was everything I expected and more. The place is open and friendly and accepting of everyone. At a time when attitudes towards LGBTQ rights seem to be taking steps backward, Sweden is a blueprint for how things should be done. They sum it up perfectly in Stockholm. It is the city of narrow streets and open minds.
For all the inspiration you need for gay-welcoming Sweden, visit visitswedenlgbt.com and more on Stockholm at visitstockholm.com
MORE IN TRAVEL