Craig Law: Our Man in Gran Can
I'm sure we've all heard our fair share of homophobic folks cry out that old "stick them on an island" chestnut but little did our unenlightened friends know that such an island already exists - glorious Gran Canaria!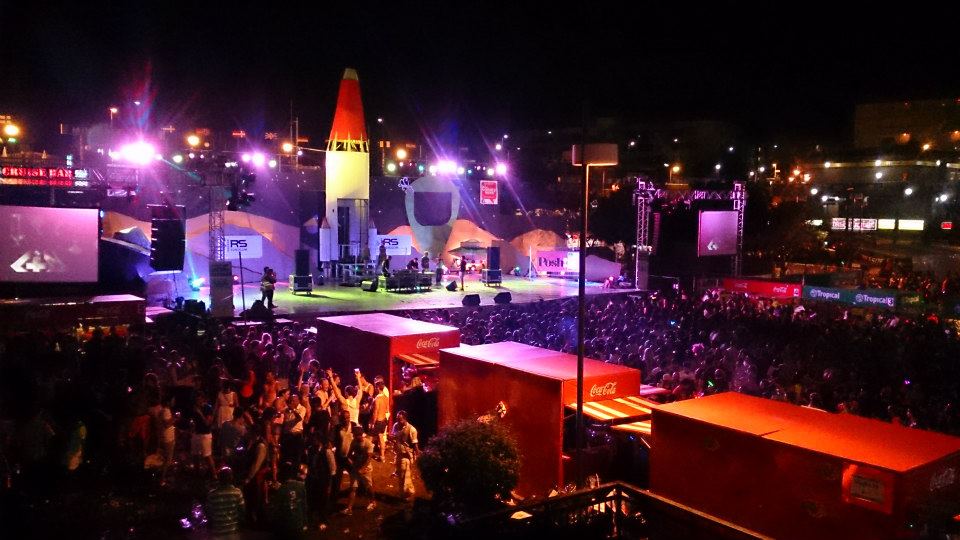 For years "GC" has been steadily building on its already stellar reputation as a destination that guarantees a good time thanks to its almost year-round sunshine, cheap flights and even cheaper alcohol. However it's easy to overlook some of the island's other charms that makes ever visit as unique and special as the last.
Most of the island's gay action centres around the resort of Playa Del Ingles on the west coast of Gran Canaria; a resort so gay tourist-friendly that you can't help but think it must've been built for the purpose of enticing the pink pound tourism trade from across Europe. A friendly welcome awaits you in Playa Del Ingles from any one of the dozens upon dozens of bars and restaurants that surround you as you walk around the resort; and that's before you step into "The Yumbo" - a gay mecca if ever one existed.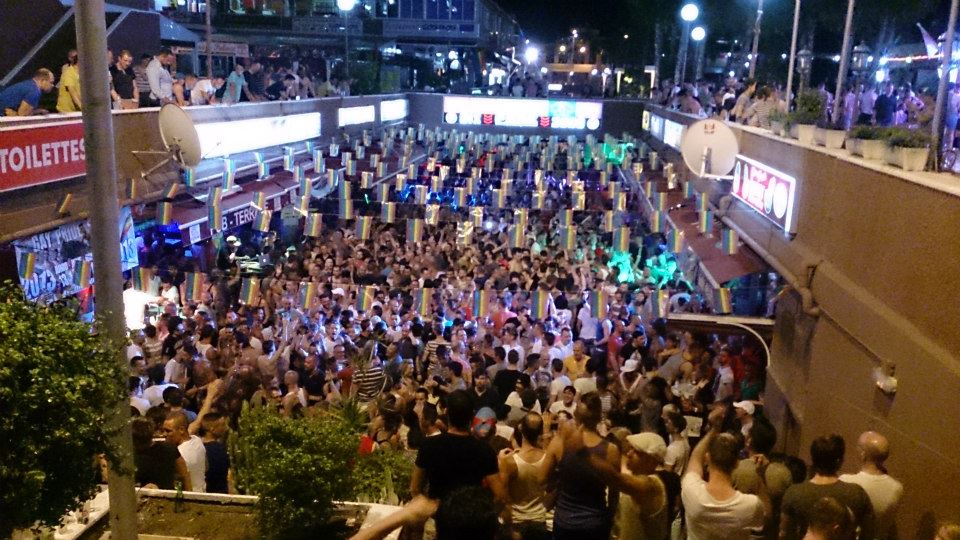 The Yumbo Centre is the heart of Gran Canaria's gay festivities; the hub of the annual Maspalomas Pride festival and for good reason; it's a gigantic shopping complex that by day is a bustling market filled with souvenirs and clothing but by night becomes the home dozens of bars all vying for your custom with scarcely believable drinks deals designed to remove whatever was left of your inhibitions (and dignity).
Of course every bar in the Yumbo has something different to offer; from delicious cocktails delivered by barely clothed waiters in bars on the ground floor to cabaret entertainment served up every night by Ricky's and Sparkles - two very worthy places to experience two varying styles of drag artistry. There's also plenty on offer for those looking for more risqué activities; with most bars boasting sizeable darkrooms and some even showing full blown hardcore pornography on the screens - a very nice distraction when you're already on your fifth super-cheap Vodka and OJ.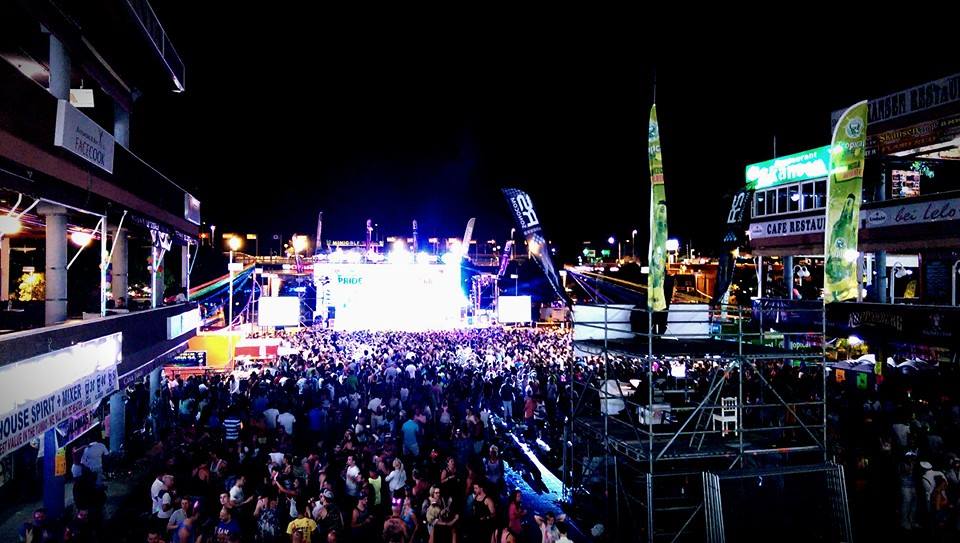 What does make Gran Canaria a fantastic destination however isn't the fact that it has a bustling nightlife scene; it's the fact that that there's so much more to do than drink and party at the Yumbo. You'll find no shortage of places to get bronzed up thanks to the many different beaches that span the length of Playa Del Ingles; from the generic tourist beaches just a stone's throw away to the dedicated "gay beach" that boasts party tunes, more cheap booze, beach snacks & a liberal clothing optional policy that is taken advantage by young and old alike. Sadly, the "gay beach" is quite a trek away and whilst there are well known short cuts, everyone should experience the sheer agony of trekking across the Maspalomas Dunes once in their lifetime!
GC also has plenty of activities to keep you occupied; From the crazily fun AquaLand Water Park to the Moonlight Cinema in Maspalomas that allows you to take in the latest blockbusters whilst cuddled on your own private sofa under the stars - both of which are easily reached by taxi's costing no more than €5-6.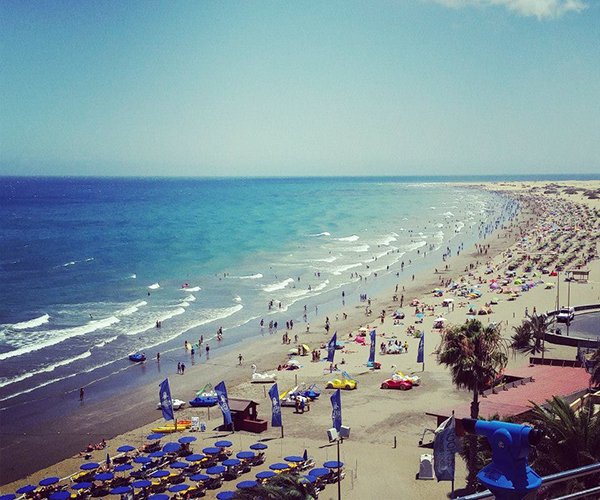 Gran Canaria offers plenty to see and do all year around and there's little wonder why it continues to be a regular holiday destination for LGBTQ+ travellers every year.
TOP TIPS
Las Palmas Airport is around 45 minutes from Playa Del Ingles, if there are three or more of you then it's worth grabbing a taxi from the airport. It's faster than conventional coach transfers and with air conditioning you'll get there in comfort.If not there are a number of public GLOBAL Buses that will take you to Playa Del Ingles for less than €5!

Drinks are very cheap in Gran Canaria and unlike the UK they aren't usually served in standard measures; so there's no need to ask for a single or double drink. Browse the offer boards outside the bars to find the many 241/Happy Hour deals on offer throughout the night and many street promoters will entice you into their bar with drinks deals for your party.
If you're going for Maspalomas Pride then be aware that it can get very busy in the Yumbo thanks to the main stage activities; even more so on the main Saturday night when residents of the island and visitors from Spain flock to the Yumbo - it can be a very stressful experience so be prepared and if possible leave your valuables in the safe - pick pocketing is rife during this time.

Beware the Boat Trip offers around the Kasbah Centre - these are usually referred to as MTV Parties and there have been many known cases of tourists being intimidated and ripped off with these offers. Stick to the official Maspalomas Pride Boat Party vendors that are dotted around the Yumbo.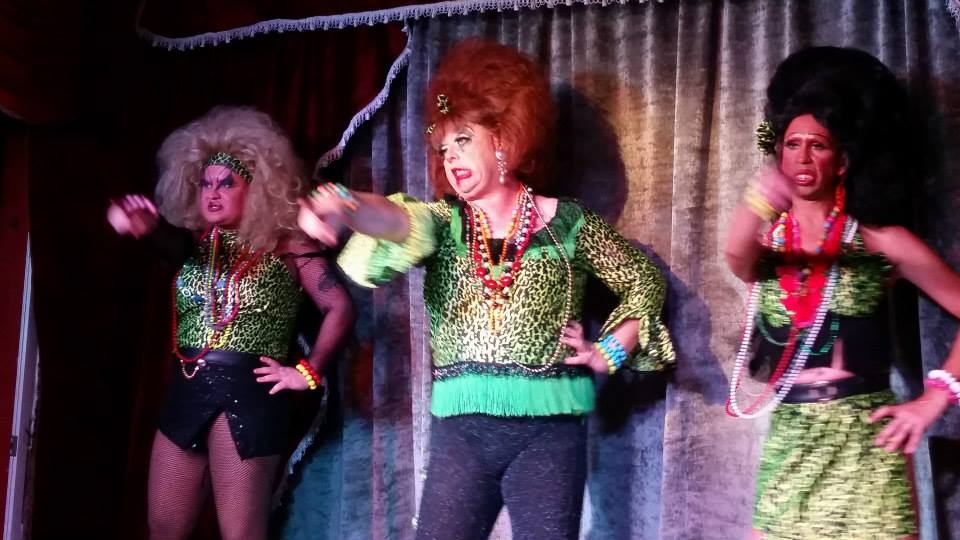 RECOMMENDED PLACES TO VISIT
Ricky's Cabaret Bar (Yumbo Centre) - great place to start your night, can get busy so arrive early!
Construction (Yumbo Centre) - banging circuit/tribal house vibes set in a fetish-focused bar
Mantrix (Yumbo Centre) - Unbelievably the only ACTUAL nightclub in the Yumbo - open til late
AquaLand (Playa Del Ingles) - Brilliant waterpark with slides and pools aplenty, make sure you pick up the discount vouchers as you arrive into Las Palmas Airport.
Moonlight Cinema (Maspalomas) - great place to spend a night away from the hustle and bustle of the Yumbo.
Red Cow - Fantastic British themed restaurant that offers the best hangover cure breakfast on the island!
WHEN TO GO

Fetish Week
Winter Pride
Maspalomas Pride
MORE IN TRAVEL