Kriss Herbert: 48 Hours in Berlin
I wasn't sure what to expect from Berlin. I'm not one to go on many city breaks! I did Madrid, but that was during Pride which was a very different experience (half naked men everywhere), and I've done Budapest, though that was for my 30th so much of that weekend was a bit of haze.
After arriving, and a short bus trip I was at at my hotel. The rather Nice 5* Hotel Steinplatz. A Hotel filled with history we're told:
The room is one of, if not the nicest hotel room, it prompted for a pic back to the other half....

That night we met up with Henrik, who apparently is a tour guide to the stars, I suppose he was a bit disappointing when I rocked up. He had a good few stories though, (You probably might be able to hear some beeping, we had the craziest taxi driver ever)
From talking to Henrik, it was clear there was LOADS on offer in Berlin, from clubs where people "perform" on stage, to swanky cocktail bars, we checked out the latter, more on that in a sec. What is a must before you visit is do your research, there are so many places to go and do and see.
So as Henrik was the man in the know he took us to a Gay(ish) cocktail bar, The Liberate Berlin. Where I thought it would be a good idea to make some cocktails, which turned out to be STRONG:
After cocktails, a few more, we went to visit THE drag queen of Berlin Gloria Viagra. This has to be the oddest part of my career ever. Turning up at a drag queens house to record an interview at 11.30pm with wine, and doing the interview in her kitchen! Still it made for a funny chat!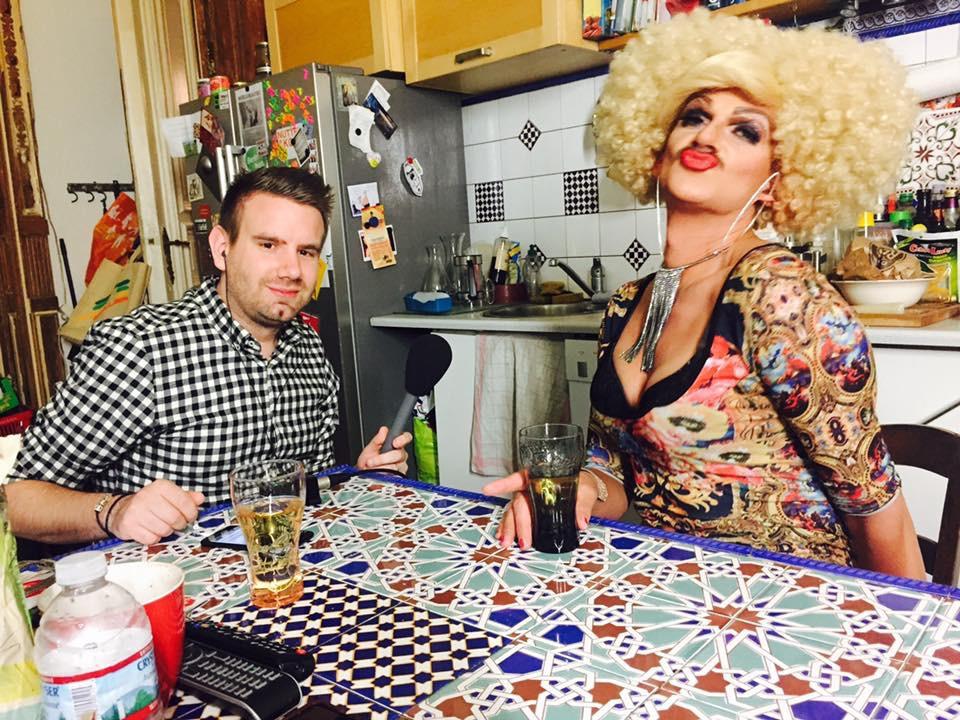 Next day was the day to check out the "Tourist" bits. Berlin really is a city with history. I was constantly told on my trip how open and accepting Berlin is of anyone and anything. This became apparent when our tour guide for the day casually pointed out the field in which gay guys go for sex in the summer. Not a problem, nothing. Thats the way it is!
So we checked out the history with our Guide Markus Muller-Tenckoff from Berlin-Guide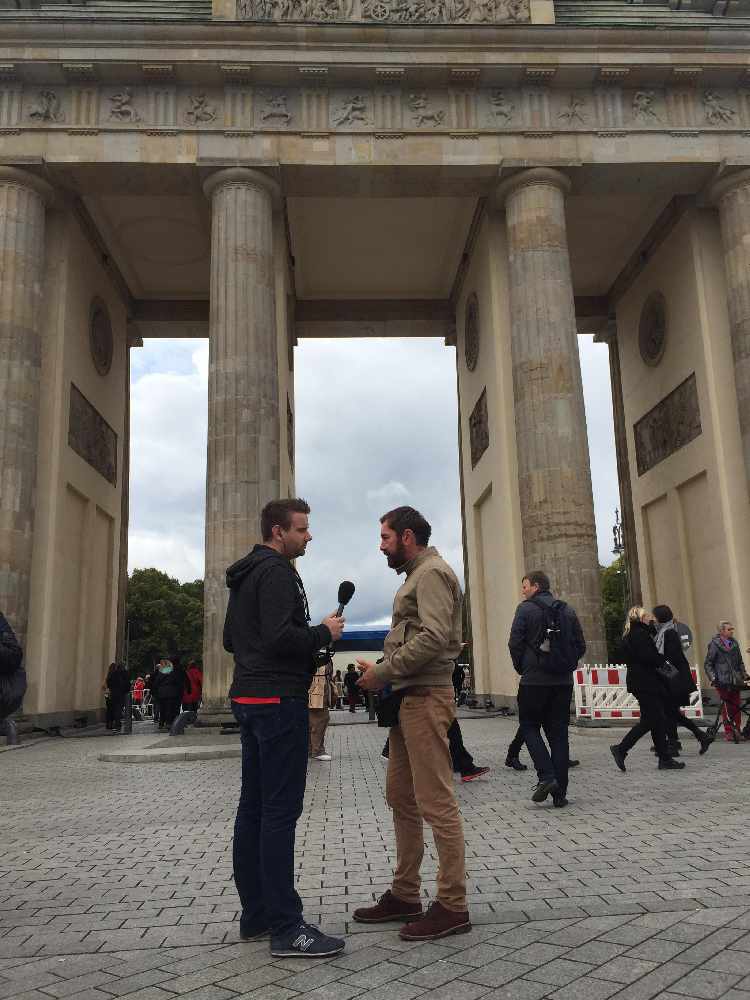 One thing I had heard about, and had to visit was the Holocaust Memorial. A room full of an eerie silence as you walk around. I re-capped my experience as just after.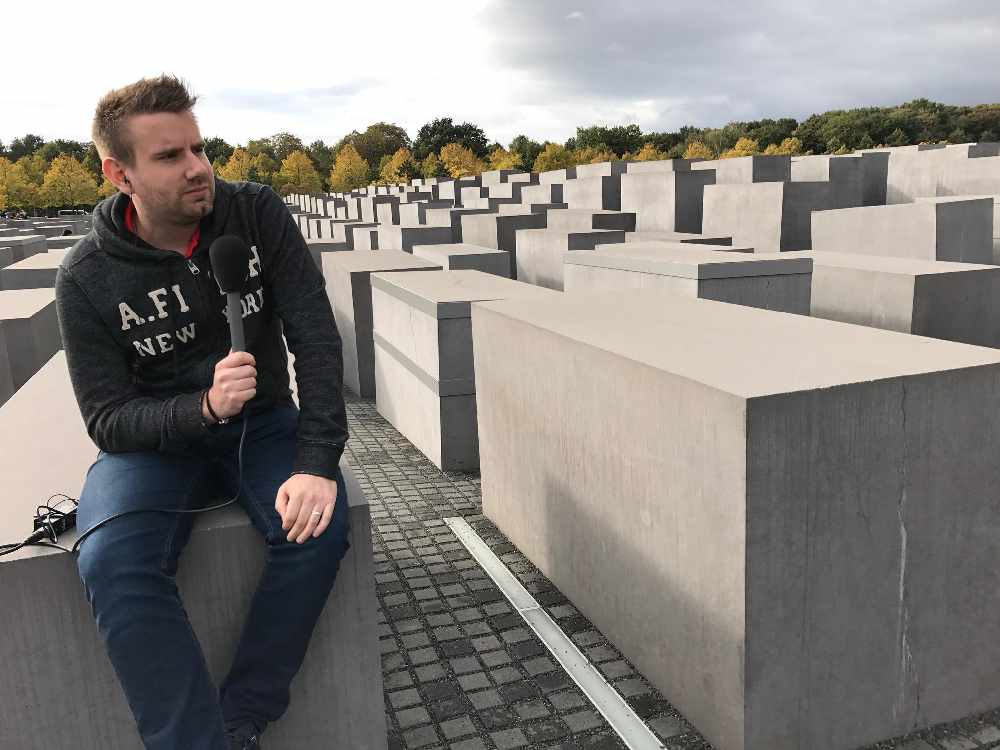 Moving on from history. I didn't know what to expect form the food in Berlin, I mean they can't eat sausages all the time can they? Well no they don't. food is influenced from around the world. We ate at a Jamaican European fusion place, called Rosa Caleta and had a rather good steak, and quite a bit of wine at Filletstuck Pigalle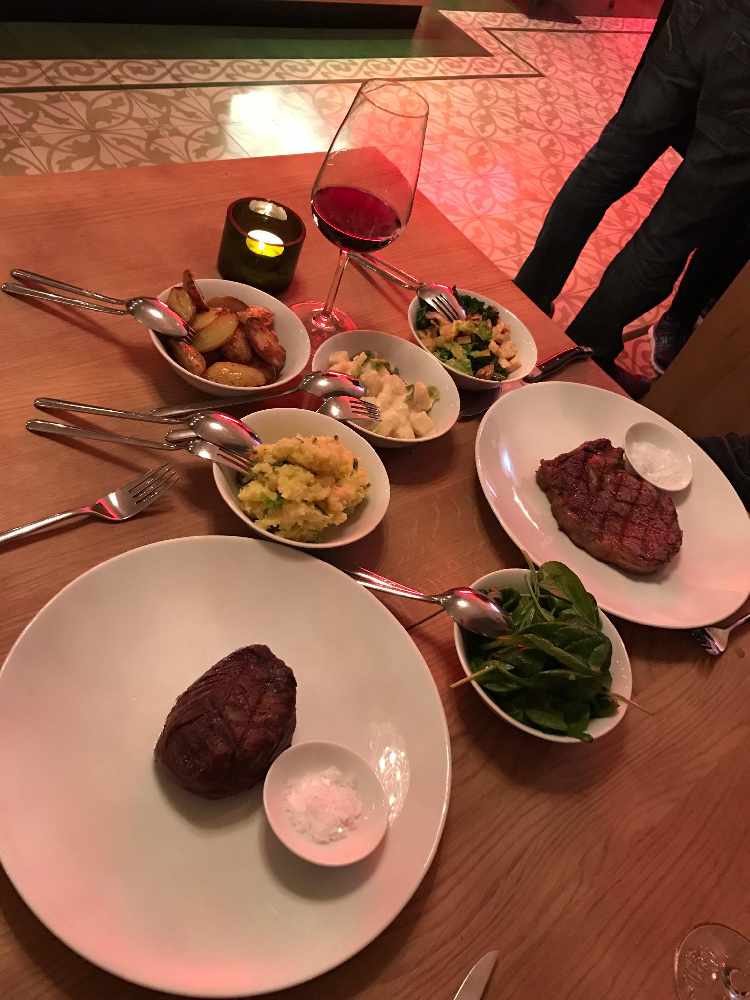 From the meat we went on to explore the Gay area of Berlin, near Nollendorfplatz U-Bahn Stop. Here you get bars that are nice cafe's. You can get more camp pop bars, all the way to bars where pretty much anything goes. And anything in between. Again do some research before you accidentally find yourself in a bar with your boss surrounded by naked men.
It's easy to get around with the underground. So much to do, you couldn't just rock up and do it it all in 1 weekend. Nightlife is amazing, and we kept getting told of more and more parties. Try and and make a friend / get advice before you go, so much of Berlin is underground.
Would I go again, YES. More information is available through Visit Berlin
MORE IN TRAVEL