Wiener-Schnitzel & Eurovision Winners - It's all in Vienna
Producer Mat travelled to Vienna for five days with Jessie & Matt and 'Office Ian' for Vienna Pride 2018, here's what he had to say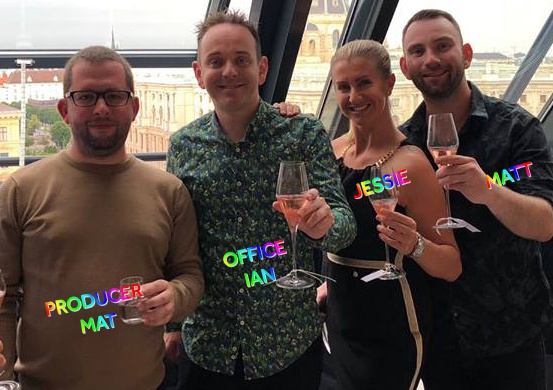 The first thing we have to talk about is the food. Oh my God the food! Cakes, Wiener-Schnitzel, pastries, Wiener-Schnitzel, wine, and more Wiener-Schnitzel. You might think I'd be all Schnitzel-ed out, but honestly, I think I could eat it all year.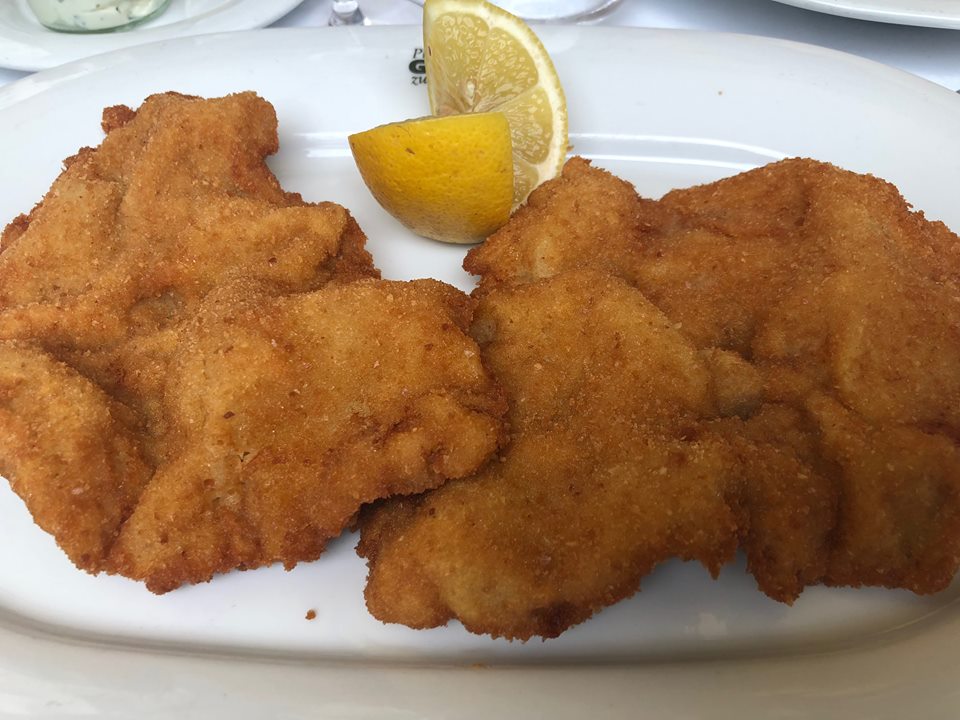 Everything we've eaten - even breakfast - has come accompanied by local wine. I'm not a big drinker, but Matt and Office Ian will tell you all you need to know about Vienna's different wines and vineyards. On Friday night, we managed to get our hands on a bottle of 60% Austrian Rum... though probably the less said about that, the better!
The hotel where the team stayed - the Hotel Imperial - is right on the Ringstraße, the main road around the old city and the route of the Pride Parade. Since opening in 1873, it's played host to celebrity musicians, actors, heads of Government, and more than one notorious dictator. Plus (and I'm sorry to go on about food again!) it's famous for the most beautiful chocolate torte which is served as a special gift in your room when you arrive.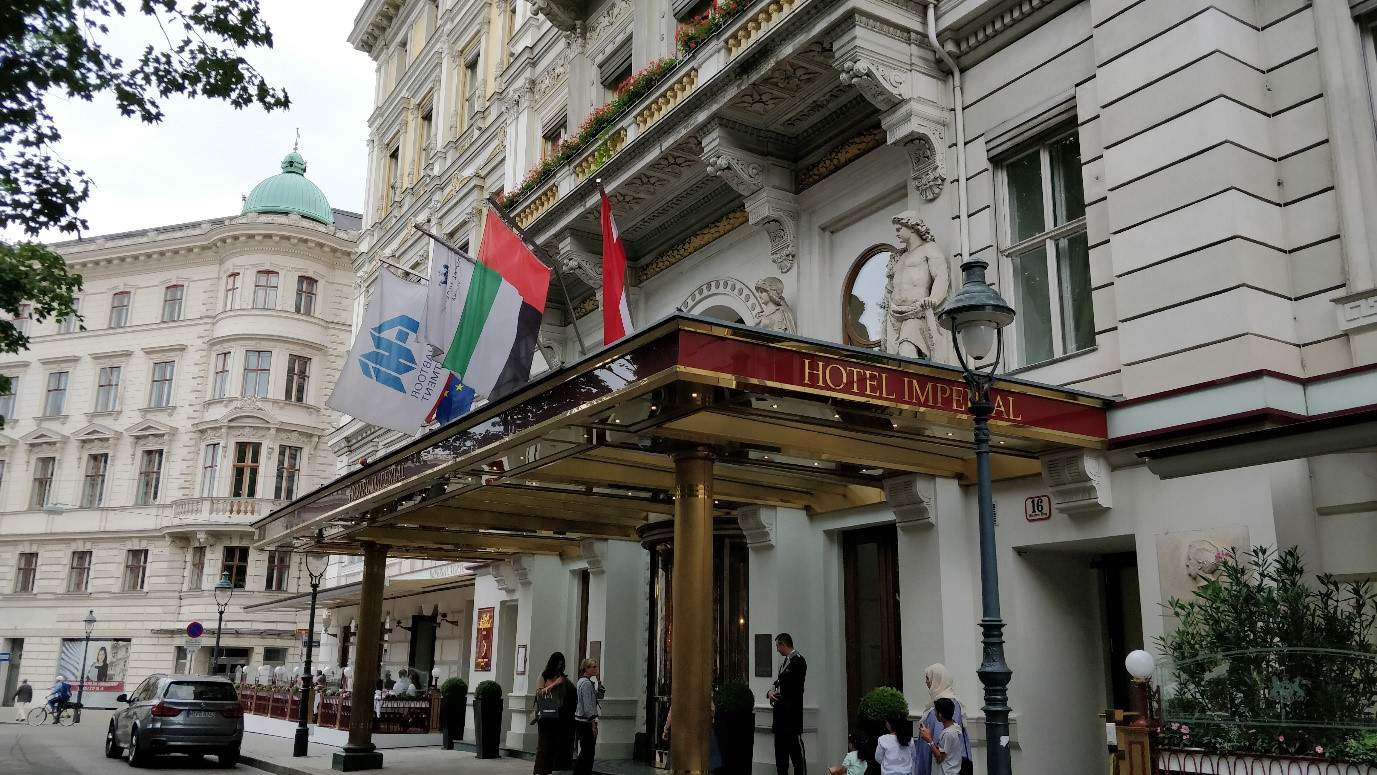 Vienna is a city full of history and culture. There are two world-famous opera houses, the Volksoper, or 'people's opera'; and the Vienna State Opera, where you can - quite literally - see a different opera performed every night. If you aren't lucky enough to get tickets, there's even a big screen outside the opera house where crowds gather to enjoy the show each evening.
One of the best ways of seeing the glorious architecture, and historical sights, in Vienna, is a walking tour. The Vienna Tourist Board can arrange a guide for you - as they did for us - and even in just a couple of hours you can see the Imperial Palace, Austria's Parliament, and the famous Spanish riding school with its unique Lippizzaner horses. There are also bike tours on offer, and we enjoyed spending a morning visiting the Danube river as it flows past the city, and the giant Ferris wheel in the world's oldest amusement park at Prater.
On Friday evening, the tourist board treated us to a luxury meal in a rooftop apartment, overlooking the old city. The views were phenomenal and the food even better. We discovered that Matt Crabb comes from a family of bakers, as we made a traditional Austrian Apfelstrudel with Conchita - yes, we had dinner with actual Conchita!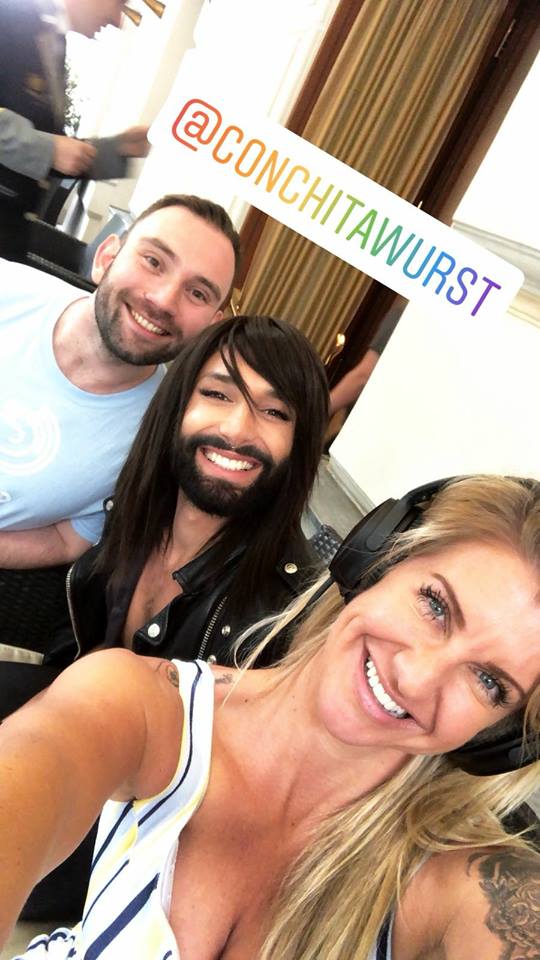 As well as everything else on offer, Vienna has some thriving LGBT nightlife. If you're a Drag Race fan - or even if, like me, you've never watched an episode - open public screenings in the basement of the Felix bar are an experience not to be missed. More generally, Vienna is one of the most LGBT-friendly places I've visited. Same-sex couples openly walk around the city centre holding hands. There are even same-sex traffic lights, which have been here since the city hosted Eurovision in 2015.
We also spent an evening at the Pride Village, in the Rathausplatz (town hall square), and saw the crowning of Miss Viena Pride 2018. The music was fabulous, and the company could not have been more welcoming.
The final afternoon of our visit was the Regenbogenparade - or Rainbow Parade - Austria's largest LGBT event. Imagine the most massive Pride you've ever been to, then double it and you'll probably come close to something like Vienna Pride. The Parade came right past the front of our hotel, with people young and old, including families, from all walks of life and 65 separate floats and organisations.
Of course, next year Vienna will play host to EuroPride, taking over as host city from Stockholm this year, and from our experience, this time around I can't think of a better place in the whole continent to hold such a fantastic event. If only I can convince the boss to let us fly out here for that event too!
Find out more about Vienna here
MORE IN TRAVEL