Europride 2018 in Stockholm
The Swedish capital, Stockholm, is renowned for being an open, inclusive, diverse and welcoming city. In August 2018 it held its third Europride (the others in 1998 and 2008) this year in tandem with Gothenburg West Pride. To get a feeling of what this city is like for the LGBTQ+ traveller, Antony Murphy had a few days exploring & experiencing the islands of Stockholm.

WELCOME
Built on 14 islands, Stockholm is one of the most beautiful cities I've ever been to. You can go from centuries old architecture, to urban sprawl, to lush areas of greenery and end up at sunny harbours all within a 20 minute walk. It's almost like the city identity is a bit of a diverse split personality and through that, I think, has something to offer for everyone.
It was also refreshing to see just how much the city had embraced Europride. I don't think there was ever a point during my stay that I couldn't see a pride flag, or references to Pride throughout the city. This was a city that wanted to show to the world how much it is an inclusive city and how it celebrates with the LGBTQ+ community
LISTEN: Hear what Ant got up to in Stockholm
HOTEL
I spent three lovely nights at the Pop House Hotel. Located just a few minutes from the city centre, it offers the best from the vivid life of Stockholm, as well as the beautiful, calm and lush nature of Djurgården. POP HOUSE Hotel offers 49 stylishly decorated hotel rooms.
The hotel is part of the same building that houses ABBA the museum and I was lucky enough to get one of the themed rooms. Mine was based on Kristina från Duvemåla a Swedish musical written by former ABBA members Björn Ulvaeus and Benny Andersson based on a series of four novels by Swedish author Vilhelm Moberg detailing a family's poverty-driven migration from Sweden to America in the mid-19th century.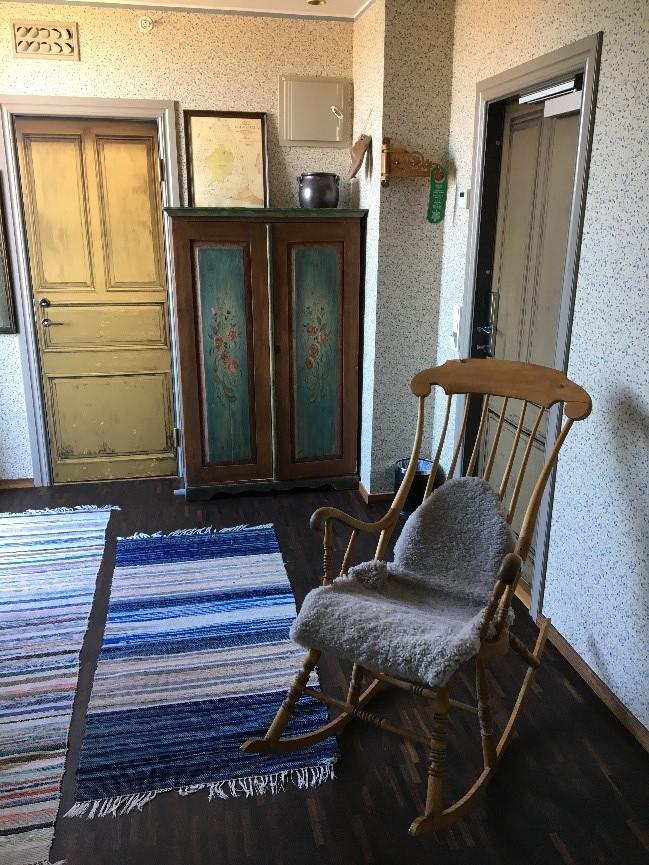 Also available are the ABBA gold room, and the Mamma Mia! Room. Mine however was full of rustic charm, a rocking chair, and a balcony with rough carved table and bench. The Bathroom however, was not in the remotest bit rustic, thankfully.

You can check out other hotels for the LGBTQ+ community here.
FOOD
Think Sweden, think Meatballs. Well, that's what I did before going. However, whilst most places do offer the traditional Swedish meatball (which I have to say are so tasty) there are a wonderful amount of varied restaurants for you to try out.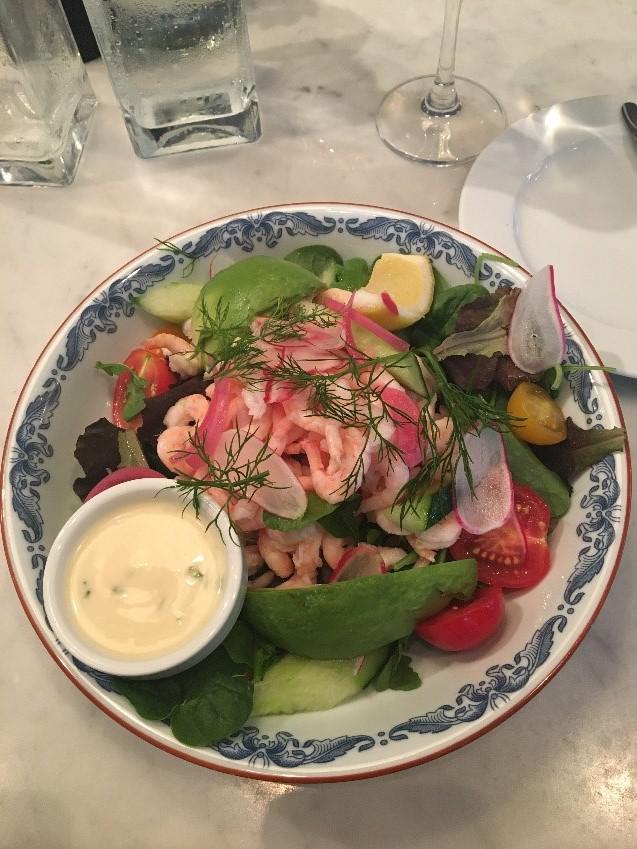 First up is Hotel Diplomat. This hotel is located in the very heart of the city and is just steps away from Stockholm's main sites, the best shopping as well as the restaurant and bar scene. You can explore Scandinavian art and design, with this unique Art Nouveau palace with stunning views over Nybroviken and Stockholm's waterfront
Next up is a restaurant I'd recommend for evening dining, to enjoy the late sunshine and spectacular views from Mälarpaviljongen.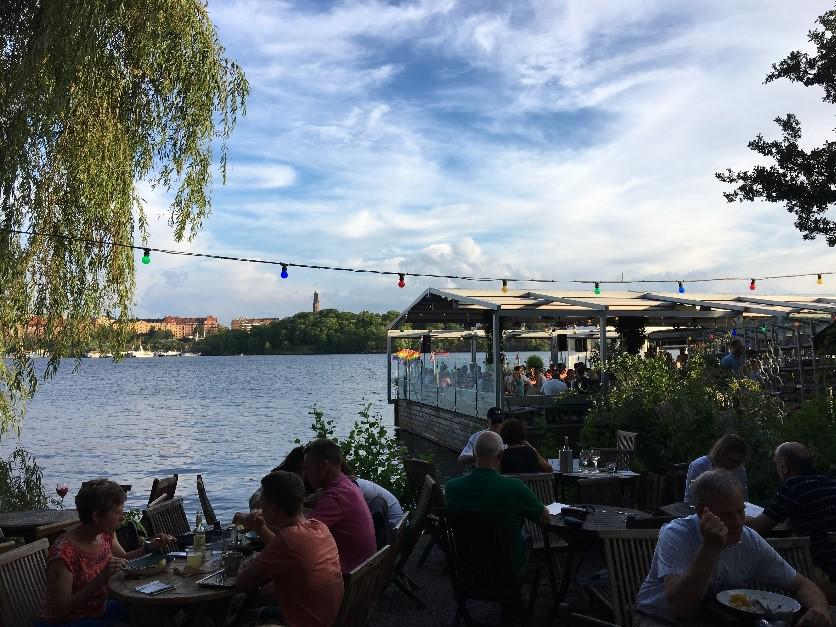 Set along the lakeside is this gay-owned floating restaurant and bar, an idyllic, flourishing oasis extending a rainbow-coloured welcome to everybody. Mälarpaviljongen is truly special place unlike anywhere else – and they are activists for the LGBT community. Their own brand of gay-Rose raises hundreds of thousands for LGBT causes across the world and they largely recruit staff who are LGBT asylum seekers escaping persecution in their home nations, to train and help them adapt to Swedish gay life. .Their meatballs are to die for!

For Lunch why not try out Hotel Skeppsholmen - Stockholm's urban oasis. On a peaceful and lush island, connected by a gorgeous bridge in the middle of the bustling city lies a more than 300 years old house. A building from 1699 with an exciting history and stunning waterside views. Add to that stories of soldiers once bunking together and an enigmatic, gay Managing Director/General Manager and you have a fabulous hospitality success story.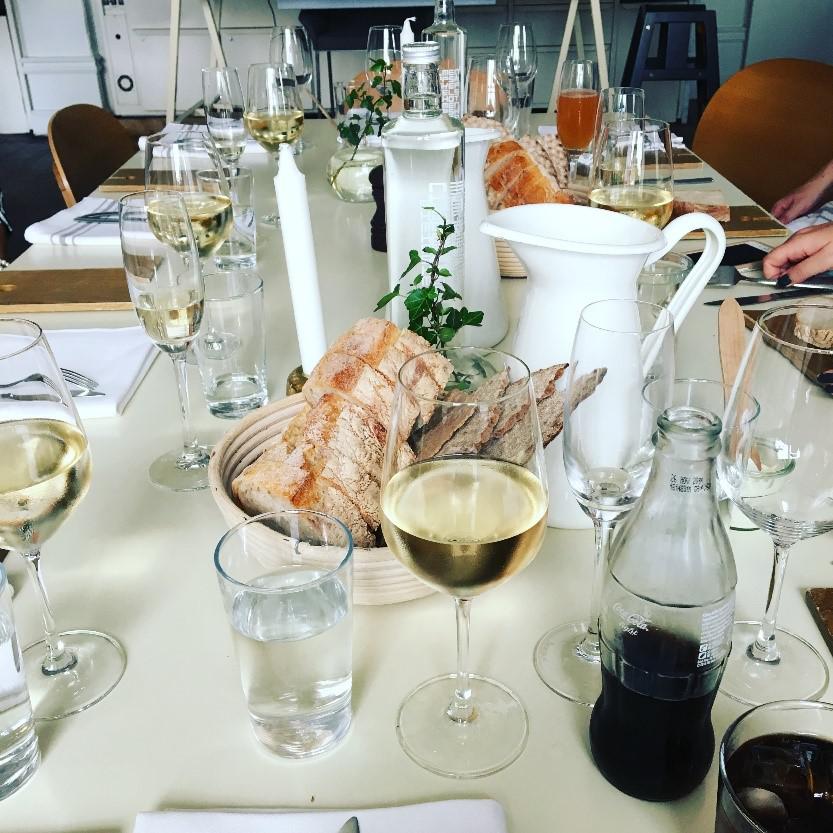 For the vegetarians amongst you, why not try out Södra Teatern that offers the best views of Stockholm, amazing parties, vegetarian comfort food and extraordinary concerts. I'm not a vegetarian, but the four course taster menu I had here was absolutely lush (and some pretty potent cocktails too)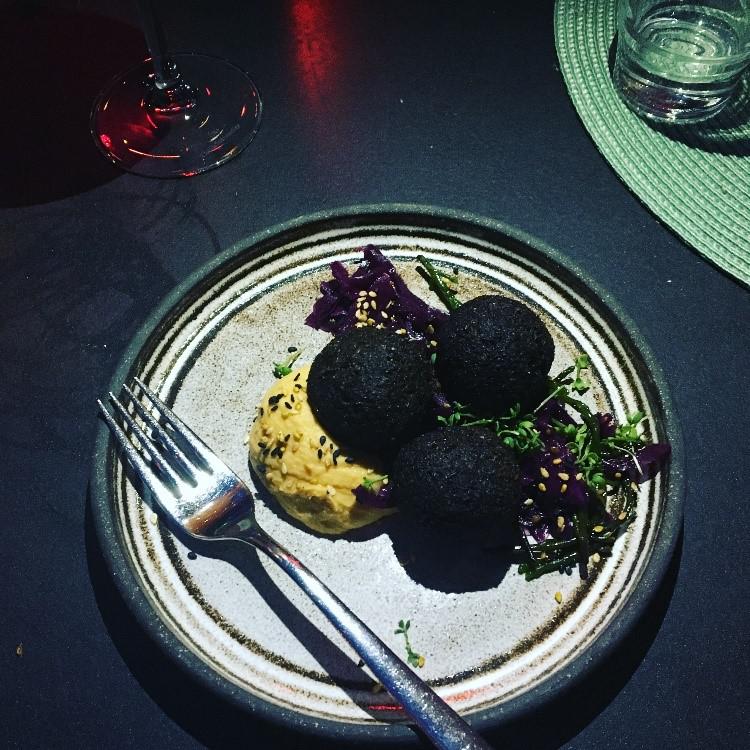 And finally, If you are just thinking of a beer and some pizza, why not check out Taverna Brillo a vibrant venue from early morning to late evening. Visit Taverna Brillo for a proper breakfast or lunch, have a festive meal, a night out or buy food and delicacies to enjoy at home. My personal favourite had to be the mushroom and truffle pizza.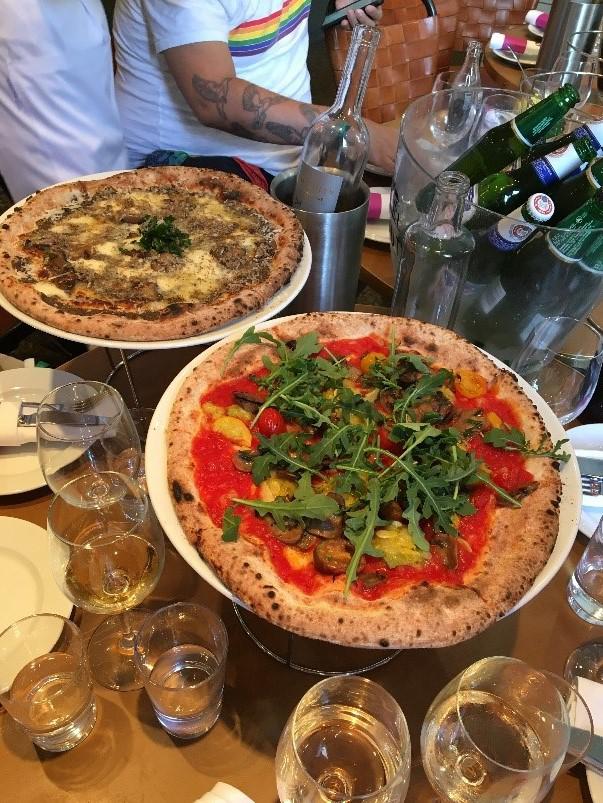 WHERE TO GO
In three days I only just scratched the surface of places to see in Stockholm. You can find about loads more here. However I'd definitely recommend 4 for you...

One of the most extraordinary museums in Europe, the Vasa Museum is home to the royal flag ship Vasa. Built to fight the kingdom of Poland in the early 1600s, it sank on her maiden voyage, in the Stockholm harbour. More than 300 years later it was successfully raised, preserved and restored by Swedish divers and scientists.
The world-class Fotografiska centre of contemporary photography, about to open branches in London and New York, but originating in the cultural heart of Sweden.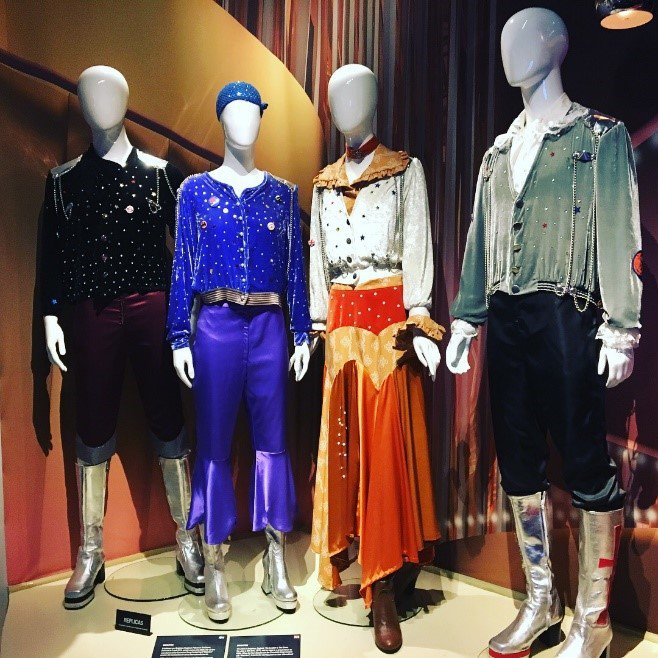 At ABBA The Museum you can be a part of the success story. With your personal ticket number, you can download all the fun you had on our website. You will also find ABBA's spectacular costumes, gold records and original items and much more. Earlier this year, the museum opened a brand new wing to document ABBA's journey after the band stopped performing together. Plus, you'll never know who you might see there, perhaps you might even get a sneak preview of their new releases at the end of the year.
Here's a tip. If the red telephone rings, make sure you're the first to pick it up. Only the four members of Abba have the phone number for this, and if it rings, it will be one of them and if you get to the phone first, you'll be having a live chat with them

"Spritlandet Sverige" is the permanent exhibition of Spritmuseum, which deals with the Swedes' bitterly healthy relationship with alcohol.
Taste Sweden at the Spritmuseum bridge! Here is the focus on craft drinks from Swedish producers from all over the country. In addition, seasonal, organic food is served, focusing on sea, lake and plant kingdom.
You can also book taster sessions, but be careful, this alcohol is strong!

I'd also heavily recommend a walking & Ferry from Djurgården tour of the old town, Gamla Stan to be on anyone's itinerary. Hear about this history of Stockholm from 1252 and how the old town escaped being demolished in the 50's + 60's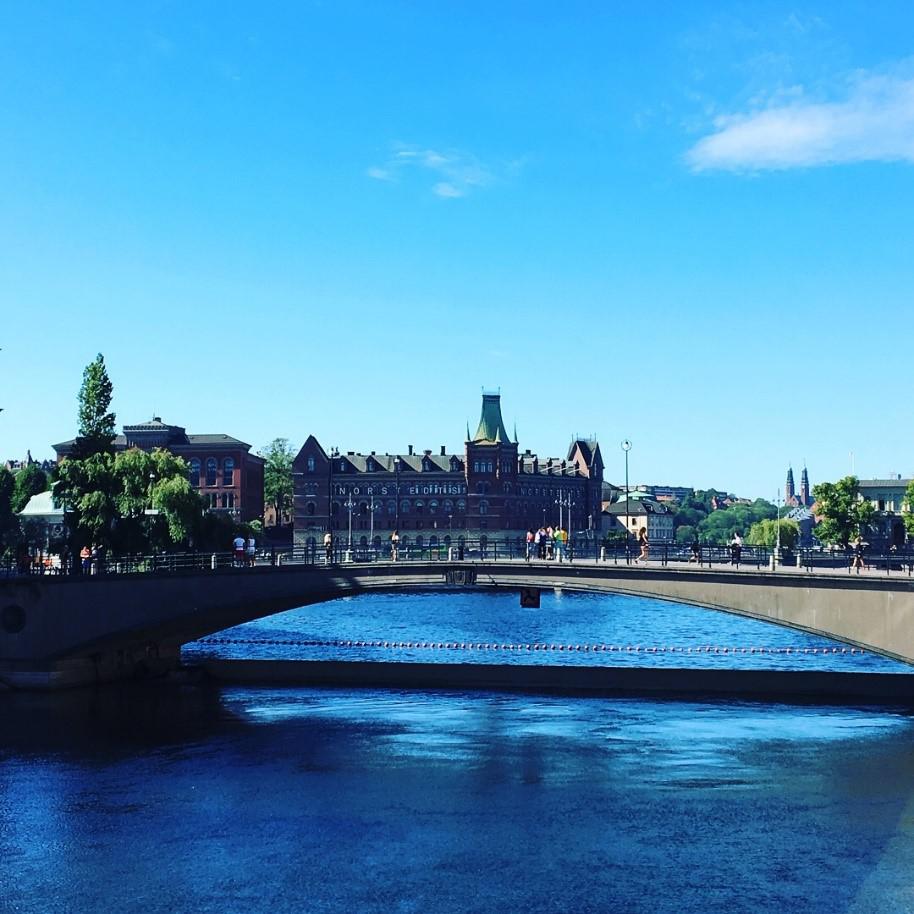 EUROPRIDE
Obviously the main reason for this trip to Stockholm was for Europride, which it is jointly holding with Gothenburg, and is the 3rd time Europride has hit Sweden. The main Pride park was a vast area complete with huge main stage (where I had a chance to catch Conchita and a very moving tribute to Avicii) Champagne bar and other assorted bars, food for all, Alcohol free zones, child friendly zones, Kinky quarter and stalls selling all manner of pride paraphernalia.



After the pride park closed, after parties galore were held in venues all over the city like Clean Festival, Moxy, King Kong and Trädgården
And finally there was the massive Pride Parade. Around 600,000 people lined the streets of Stockholm to see the parade wend its way to the Pride Park. I have to say this seemed to be one of the least corporate parades I've ever seen. There were 60,000 marching in it and unlike other prides, which seem to consist of many floats advertising bars and clubs, with a few walkers in-between, this had a greater ratio of marchers for political and rights issues rather than partying hard.
Possible the highlight though was the Swedish fire brigade in the parade every so often unleashing vast amounts of water into the air to rain down over paraders and viewers. Given that Stockholm is having the hottest summer on record, this proved a very welcome watering down!
AND FINALLY
Just one final tip – DON'T TAKE ANY MONEY WITH YOU. Seriously, Stockholm is progressing to be a cashless city, everyone takes credit/debit card payments, and allot of places won't take cash
So much to see, so little time. I have to go back sometime soon. It is one of the friendliest cities I've ever been to, one of the most diverse and inclusive cities I've ever been to and one of the most progressive too.
Thanks to Norwegian Airline for getting me there
Norwegian operates 5 daily flights with free Wi-Fi from London Gatwick, 2 weekly flights from Manchester and 3 weekly flights from Edinburgh to Stockholm. Fares start at £44.90 one way. The airline flies from the UK to more than 50 global destinations, including the UK's only low cost direct flights to America, South America and Asia.
And massive thanks to StockholmLGBT, VisitStockholm and VisitSwedenLGBT for showing me around your beautiful city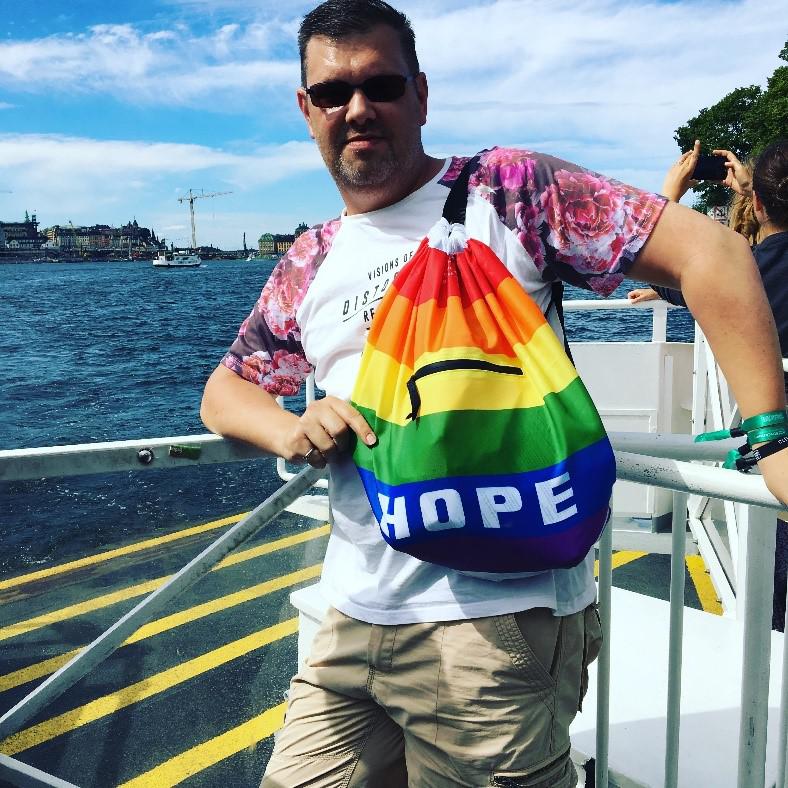 MORE IN TRAVEL